Familiar Office Apps
Always have the latest versions of Office Suite. Applications include Word, Excel, Powerpoint, Outlook, OneNote, Publisher, Access and Skype. All applications are available within ProPlus, Enterprise E1, E3, and E5.
Open PDFs and edit paragraphs, lists, and tables just as you do in familiar Word documents.
Keep track of comments in Word documents and mark them as done with the new reply button.
Embed Excel spreadsheets, Visio diagrams, photos, and almost any other kind of computer file, in your OneNote notebooks.
Convert your data into a chart or table in two steps or less so you can analyze it faster, and then preview it with different formatting.
Office on PCs, tablets, and phones
Enjoy a fully installed Office experience across PCs, Macs, Windows tablets, iPad® and Android™ tablets, and most mobile devices. Each user can install Office on 5 PCs or Macs, 5 tablets (Windows, iPad, and Android), and 5 phones.
Control and Functionality
Online Services offer enhanced collaboration and access to the Office Suite. Features below are included in ProPlus, Enterprise E1, E3, and E5.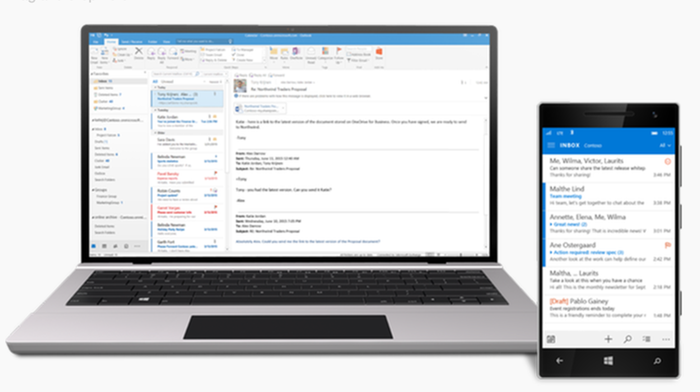 Simple file storage and sharing
OneDrive for Business gives each user 1 TB of personal cloud storage that can be accessed from anywhere. Easily share documents with others inside and outside your organization and control who can see and edit each file.
Self-service Business Intelligence in Excel
Do more with the tool you already know: Excel. Discover and connect to data with Power Query, model and analyze this data with Power Pivot, and visualize insights in interactive reports and maps with Power View and Power Map. Power BI for Office 365 is a separate service that lets you easily set up an online gallery for your Excel reports so everyone in your organization can access the reports, share insights about the data, and collaborate from anywhere, on any device.
Email and calendars
Use business-class email through a rich and familiar Outlook experience you can access from your desktop or from a web browser. Get a 50 GB mailbox per user and send attachments up to 150 MB. Advanced email available in Enterprise E3 and E5.
Chat-based workspace
Connect your team with Microsoft Teams in Office 365, where chat, content, people, and tools live together, so your teams have instant access to everything they need.
File storage and sharing
OneDrive for Business gives each user 1 TB of personal cloud storage that can be accessed from anywhere and that syncs with their PC/Mac for offline access. Easily share documents with others inside and outside your organization and control who can see and edit each file.
Team sites
Enable easy access and sharing of documents with 1 TB of baseline storage plus 500 MB of storage per user. Share insights through interactive reports with Excel Services and Visio Services and view them on mobile device browsers that support HTML5.
Work management
Planner makes it easy for your team to create new plans, organize and assign tasks, share files, chat about what you're working on, and get updates on progress.
Search and discovery
Stay in the know. Search and discover content across Office 365 based on personalized insights. Office Delve is the first experience to be powered by Office Graph, a collection of analyzed signals or insights derived from each user's behavior and relationships to content, topics, and contacts.
Collaboration and Mobility
Online Services offer enhanced collaboration and access to the Office Suite. Features below are included in ProPlus, Enterprise E1, E3, and E5 ( Mobility, Voicemail Integration, PSTN conferencing, and Modern voice with Cloud PBX specific to E3 and E5).
Office Online
Create and edit Word, OneNote, PowerPoint, and Excel documents from a browser.
Professional digital storytelling
With Sway, a new Office 365 app, you can easily create engaging, interactive web-based reports, presentations, newsletters, trainings and more—right from your phone, tablet, or browser. Sways are easy to share and look great on any screen.
Online Meetings
Host online meetings with audio, HD video, and web conferencing over the Internet. Join meetings with a single touch or click from the smartphone, tablet, or PC of your choice.
Meeting Broadcast
Broadcast Skype for Business meetings on the Internet to up to 10,000 people who can attend in a browser on nearly any device. Optionally include Bing Pulse for real-time polling and sentiment tracking, and Yammer, to enable dialogue during the broadcast.
Instant messaging and Skype connectivity
Connect with other Skype and Skype for Business users via instant message, voice calls, and video calls, and let people know your availability with your online status.
Corporate social network
Yammer collaboration software and business applications allow your employees to connect with the right people, share information across teams, and organize around projects so they can go further, faster.
Corporate video portal
Easily manage videos within your organization. Office 365 Video is a company-wide destination for video upload, sharing and discovery, and smooth playback across devices.
Apps for Office and SharePoint
New third-party and customer-developed apps work with Office and SharePoint to bring web services right into your documents and sites.
Staff Workers
Connect your workers to the information they need to do their job for the day. Microsoft StaffHub provides convenient scheduling, content sharing, and workgroup messaging.
Mobility for Enterprise E3
Sync email, calendar, and contacts; access SharePoint sites; view and edit Office documents with Office Online using a browser on Windows Phone, iOS, and Android devices.
Voicemail integration (Unified Messaging for Enterprise E3
Hosted voicemail support with auto-attendant capabilities. Voicemails are recorded to Exchange Online and users can access them from Outlook or a compatible mobile phone.
PSTN conferencing (Add-on or Enterprise E5)
Enable attendees to join Skype for Business from any telephone by dialing a local access number, and dial out from a meeting to add others when needed. The dial-in capability is in addition to single-touch join options on PC, smartphone, and browser, and allows people to join an online meeting even in places with no Internet access. Consumption rates are available.
Modern voice with Cloud PBX (Add-on or Enterprise E5)
Make, receive, and transfer business calls in the office, at home, or on the road, using phone, PC, and mobile without the need for a traditional phone system. Choose PSTN calling plans delivered by Microsoft where available, or use existing phone lines at your locations.
Security and Control
All Office 365 for business plans include:
Reliability
Get peace of mind knowing your services are available with a guaranteed 99.9% uptime, financially backed service level agreement (SLA).
Security
Cutting-edge security practices with five layers of security and proactive monitoring help keep customer data safe.
Privacy
Your data is yours. We safeguard it and protect your privacy.
Administration
The admin portal provides IT detailed configuration options for your services, either from an online portal or through automated management with PowerShell commands. You can use the Admin app to manage your services on the go.
Up to date
No need to pay for version upgrades; updates are included in your subscription. New features are rolled out to Office 365 customers in an IT-configurable experience.
Active Directory integration
Manage user credentials and permissions. Single sign-on and synchronization with Active Directory.
Support
24/7 phone support for all IT issues. For less urgent issues, you can create service requests directly through the admin portal
Additional Security for Enterprise E3 and E5
Enterprise E3 offers additional advanced email, document and email access control, advanced compliance tools, and information protection tools. Enterprise E5 offers the E3 tools and advanced information protection, advanced security, and compliance solutions.