Field service management
Powerful job creation, dispatch, navigation, quoting, job documentation and invoicing capability - in the office or from the palm of your hand. Field staff have everything they need to get to the job, complete and record the work, and issue an invoice. They can even accept payment on-site through the app.
Scheduling
Easily manage your staff schedules from anywhere. Simply drag jobs onto the desired time and staff member and they'll be instantly notified of their updated schedule.
Quotes & Invoicing
Create professional quotes & invoices in seconds, then email or TXT them to your client while you're still on site.
Mobile
Impressive communication, navigation, quoting, job management and invoicing capability, tailored for ease of use with your iPhone or iPad.
Electronic Forms
ServiceM8's Forms have near limitless possibilities. Complete site audits, procedures, and checklists in the field, then immediately turn them into professional PDF reports.
Online Booking
Create advanced online booking forms for your business's services, allowing customers to get a live quote, select a time, then book a job straight into your schedule, without interacting with your business directly.
24/7 Online Booking System
Enable customers to book your services online, day or night.
Intelligent quoting
Teach ServiceM8 the questions & answers you use to price your services. Answers provided by customers while filling out the form determine the price they're quoted.
Smart scheduling
Set which staff are capable of performing a particular service. ServiceM8 analyses their schedules when presenting possible booking times to customers online, taking into account other bookings & travel time.
Add-ons
ServiceM8's not just an app, it's a platform. Add-ons are additional modules which extend the functionality of the app in specific areas, or assist certain industries.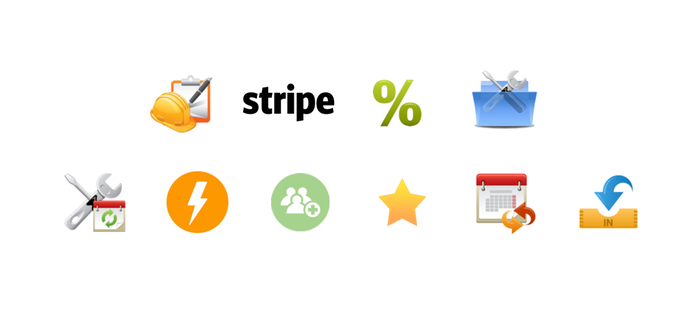 Integrations
ServiceM8 doesn't do everything, so we've integrated with other great products for small business, giving you a seamless experience between platforms.
Accounting Integrations
Sync clients, items, invoices, and payments with your accounting package to prevent double entry and reduce administration efforts. No duplication, no importing or exporting of files - it's never been easier.
MailChimp Email Marketing
Save time on marketing admin with daily syncing of all client email addresses in ServiceM8 with your MailChimp mailing list - just set and forget.
App Integrators
Zapier - Build your own customised connections between ServiceM8 and over 500 other supported apps.
Workato - Build your own customised connections between ServiceM8 and over 150 other supported apps
Deputy - Staff Management
Staff clock-on and clock-off times from ServiceM8 are automatically recorded in Deputy as timesheets.
Open API
Can't live without a specific feature or integration we don't support? Our Application Programming Interface (API) allows developers to connect ServiceM8 to third-party apps or software.
Reports
Whether you're looking for a high-level view of how you're tracking or want to get into the nitty-gritty details, get all the information you need lightning fast.
Security
Protecting your data is fundamental to everything we do. We have invested in industry-leading infrastructure and constantly strive to ensure your data is always secure.