Field service management
Powerful job creation, dispatch, navigation, quoting, job documentation and invoicing capability - in the office or from the palm of your hand. Field staff have everything they need to get to the job, complete and record the work, and issue an invoice. They can even accept payment on-site through the app.
Manage jobs from start to finish.
Schedule, dispatch, and communicate with field employees in real-time.
Communicate with clients and provide estimates and invoices from the field.
Use checklists and task lists to ensure a job is done right the first time.
Access client and job details from the field, anywhere, anytime.
Capture photo and videos before and after the job.
Capture signatures to record proof that the customer is happy to proceed.
Powerful job search allows you to review past jobs instantly.
Get directions to the job site in your favorite mapping software.
Access a full history of work done for every client, including notes, photos and emails.
Scheduling
Easily manage your staff schedules from anywhere. Simply drag jobs onto the desired time and staff member and they'll be instantly notified of their updated schedule.
Access a daily schedule from anywhere.
Use simple drag and drop functionality to schedule employees.
Instantly notify employees of schedule changes with push notifications.
Instantly dispatch jobs to the closest available staff member for urgent jobs.
Automatic alerts remind you when to leave for your next booking.
Quotes & Invoicing
Create professional quotes & invoices in seconds, then email or TXT them to your client while you're still on site.
Accept credit card payment through the app, simply type in the client's credit card number and charge them.
In the office or on the app, you can create job-winning quotes, fast.
Customers can view and accept your quotes online
Select from our range of beautiful and professional template designs.
Design your own custom templates to suit your businesses brand.
Mobile
Impressive communication, navigation, quoting, job management and invoicing capability, tailored for ease of use with your iPhone or iPad.
ServiceM8 for Apple Watch allows you to receive and reply to staff messages from your wrist, keep track of how long you've been on site, and view job details at a glance.
Offline access allows field staff can access all job information, see their schedule, take photos and videos, collect signatures, and much more - all without internet connectivity.
Solely focusing on the Apple platform has enabled us to produce an incredibly quality, reliable and fast app that just works.
We take advantage of iOS feature updates faster. Share information between your devices easier, add ServiceM8 to your notification center, work faster with 3D Touch and so much more.
Day Zero iOS support - when Apple releases an iOS update to your devices, we'll support it on launch.
Electronic Forms
ServiceM8's Forms have near limitless possibilities. Complete site audits, procedures, and checklists in the field, then immediately turn them into professional PDF reports.
Simply by working through a list of questions, staff can generate comprehensive and professional PDF reports while on site.
Forms are simple to build using ServiceM8's online editor.
Flexible questions types allow staff to pick from a list, take a photo, collect a signature and more.
All forms, certificates, reports and documents are automatically saved to the job future reference.
Online Booking
Create advanced online booking forms for your business's services, allowing customers to get a live quote, select a time, then book a job straight into your schedule, without interacting with your business directly.
24/7 Online Booking System
Enable customers to book your services online, day or night.
Intelligent quoting
Teach ServiceM8 the questions & answers you use to price your services. Answers provided by customers while filling out the form determine the price they're quoted.
Smart scheduling
Set which staff are capable of performing a particular service. ServiceM8 analyses their schedules when presenting possible booking times to customers online, taking into account other bookings & travel time.
Add-ons
ServiceM8's not just an app, it's a platform. Add-ons are additional modules which extend the functionality of the app in specific areas, or assist certain industries.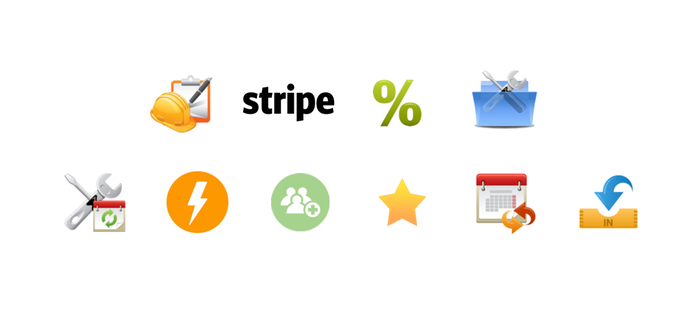 Job Costing - quickly get a picture of how profitable a job is.
And many more - over 20 Add-ons, each solving different problems that small businesses have.
Online Bookings - allowing your customers to book quotes or jobs online.
Automation - automatically email or text clients to remind them of upcoming bookings, request payment of an invoice or follow up a quote.
Email Inbox - Convert email enquiries into new jobs in ServiceM8, with a single click.
Recurring Jobs & Reminders - simplify the management of repeat work and contracts.
Customer Feedback - an easy, fast and automated way to collect feedback about your business and service.
Integrations
ServiceM8 doesn't do everything, so we've integrated with other great products for small business, giving you a seamless experience between platforms.
Accounting Integrations
Sync clients, items, invoices, and payments with your accounting package to prevent double entry and reduce administration efforts. No duplication, no importing or exporting of files - it's never been easier.
MailChimp Email Marketing
Save time on marketing admin with daily syncing of all client email addresses in ServiceM8 with your MailChimp mailing list - just set and forget.
App Integrators
Zapier - Build your own customised connections between ServiceM8 and over 500 other supported apps.
Workato - Build your own customised connections between ServiceM8 and over 150 other supported apps
Deputy - Staff Management
Staff clock-on and clock-off times from ServiceM8 are automatically recorded in Deputy as timesheets.
Open API
Can't live without a specific feature or integration we don't support? Our Application Programming Interface (API) allows developers to connect ServiceM8 to third-party apps or software.
Reports
Whether you're looking for a high-level view of how you're tracking or want to get into the nitty-gritty details, get all the information you need lightning fast.
Job Reports - see jobs by category, job status, backlog and win/lose rates, all at a glance.
Revenue Reports - monitor your cash flow with reports on invoicing, job profitability, revenue by job category, and total revenue.
Feed Reports - receive daily and weekly reports on job status, invoicing status and productivity.
Job Data Export - export job, client and materials data and generate custom reports of your own.
Security
Protecting your data is fundamental to everything we do. We have invested in industry-leading infrastructure and constantly strive to ensure your data is always secure.
We have chosen Amazon Web Services to host the ServiceM8 platform. Amazon is the industry leader in cloud infrastructure with world class, highly secure data centres.
Your account is backed up every five minutes to secure ServiceM8 servers in multiple locations around the world.
Being able to depend on the quality and reliability of a field service solution is crucial for small business. ServiceM8 was built from the ground up to have enterprise-class reliability.
ServiceM8's servers are secured by SSL Certificates issued by Amazon, so all data transferred between users and ServiceM8 is encrypted, including data transferred to iPhone® and iPad® devices.
ServiceM8 stores your data in multiple locations around the world, including the United States, Australia, Ireland, Singapore and Tokyo.
In the event that one of your devices is lost or stolen, access to your ServiceM8 account through that device can be removed immediately.