Drag and Drop
Create the perfect site with powerful drag and drop tools.
The Drag and Drop Editor
Weebly's drag and drop website builder makes it easy to create a powerful, professional website without any technical skills. Over 40 million entrepreneurs and small businesses have already used Weebly to build their online presence with a website, blog or store.
Power Your Site with Elements
Content elements (like text, photos, maps, and videos) are added to your website by simply dragging and dropping them into place. Text is edited just like in a word processor. Building your website is done in real-time, right from your web browser. There's absolutely nothing to install and no upgrades to worry about.
Ecommerce
Getting your eCommerce website up and running is as simple as choosing a design theme, adding your products, setting up shipping and taxes, then selecting your preferred way to accept payments. We automatically create a storefront for you to customize as much or as little as you'd like, including the option for full CSS/HTML control and editing.
Fully Integrated Shopping Cart & Secure Checkout
Provide shoppers with the convenience of a fully integrated shopping cart and a secure checkout experience directly from your eCommerce website. Weebly's shopping cart software is set-up automatically when you create your online store so you can start selling online immediately, no technical skills needed.
Track Your Inventory
Manage a handful or hundreds of products. Track your inventory to manage your supply, show customers the number of items remaining to create urgency and boost buying behavior (e.g. only 2 left!), and automatically update shoppers when items are out of stock if they attempt to purchase from your eCommerce website.
Powerful Filtered Product Search
Give shoppers a faster way to find exactly what they want. Highlight the most relevant products and let your customers filter the results by attributes like price, color, etc. Filtered product search helps you maximize exposure across all of your inventory and create more buying opportunities.
Sell Digital Goods, Physical Products, Services and More
Flexible options for selling a wide range of products directly from your eCommerce website. Digital and downloadable items are automatically delivered to your customers via email with a secure one-time use link. There are extensive options for physical products, one-of-a-kind handmade items, services and donations that can be completely customized to meet your needs.
Modern Ecommerce Templates and Storefronts
Choose from a wide variety of modern and unique eCommerce templates and color palette combinations to design the perfect look for your online store. You can showcase featured products, categorize items for easy browsing, customize fonts, and define photo display options to create a store you'll be proud to share.
Showcase Your Products with Display and Merchandising Options
The Weebly eCommerce platform brings the ease of drag and drop website creation to product merchandising. Create rich product descriptions with slideshows and videos. Easily reorder products for maximum visual appeal. Shoppers can easily share your products on Facebook, Twitter and Pinterest.
Complete Mobile Store and Checkout
Give shoppers a mobile experience that works every time from any device. We ensure your online store and products load quickly and display perfectly. All eCommerce websites include a free mobile shopping cart and and secure checkout experience that's designed to work perfectly on smaller screens like phones and tablets.
Import Your Online Store to Weebly eCommerce
Want to see a preview of what your existing store could look like on Weebly? Import your store from Etsy, Shopify or upload a CSV file directly into Weebly's eCommerce platform for fast and easy setup. Once imported, you can adjust and tweak your store design to create a unique look.
Drive Sales with Coupon Codes
Sellers are armed with promotional offers to compete effectively and increase sales. They can incentivize visitors to purchase with a limited-time offer, attract new buyers by offering a coupon discount and generate repeat sales from existing customers by running a sale.
Fine-Grained Tax Controls
It's simple to manage even the most complex tax situations with a Weebly eCommerce website. You determine when and where to apply taxes. Weebly provides and maintains current city, state and province level tax rates for the United States and Canada. For all other countries, tax rates can be defined by the seller.
Beautiful Checkout
Get customers through the checkout flow easier than ever with a simplified one page purchase process. The responsive checkout flow features an order summary and collapsing sections. Special areas for custom coupons, security information and return policies help your customers complete checkout quickly and confidently.
Free Website Templates
Weebly offers a wide range of professionally designed website templates. From ultra-modern minimalist to bold and classic, Weebly has a free website template that fits your unique design palate.
Control the Entire Layout
Easy and powerful customization tools give you full control over each website template. Change the font, header, color scheme, and all major web design elements from a dead-simple interface. Combine these customizable elements for infinite design options.
Customizable Background Images
Select a high-resolution stock photo from a gallery of free background images or upload your own in order to further personalize your website design. Experiment with advanced blur, darkness, and filter options for additional customization with Weebly's powerful background editor.
Make the Design Yours
Weebly templates are not only free and flexible but easy to mold into truly unique design elements. Nothing is out of reach – every template features an Advanced Theme Editor that offers full HTML and CSS control for custom development from the ground up. All templates are fully responsive and look great on any device.
Diversity and Depth
Elegant design and layout is the key to a successful website. Weebly website templates run the full spectrum of modern website design and are built for you to control, edit, and change at will. Jump into a Weebly template today - it's free, powerful, and a great choice for affordable web design.
Blog
Starting a blog with Weebly is simple. The flexible drag and drop interface helps you build blog content quickly. Powerful design and publishing elements let you focus on your content while Weebly services pull all the weight in the background.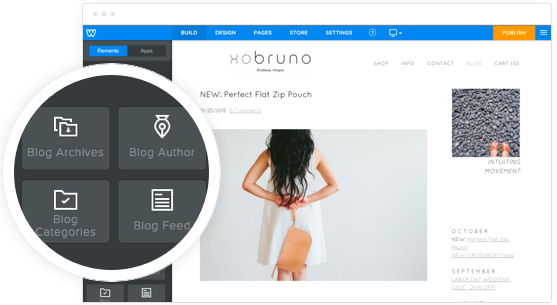 Free Blog Templates
Weebly's free blog templates can work as stand alone sites or parts of a larger website or online store. Free blog hosting ensures your content loads quickly and remains available to readers. Blog templates can be fully customized and altered to fit your goals.
Powerful Blog SEO
Create custom URLs, title tags and meta descriptions to help your blog posts perform better in search results and bring more traffic to your pages. Add custom header and footer code to blog pages for even more SEO opportunities.
Advanced Blog Management and Customization
Full control over layout and post structure allow you to start exceptional blog sites. Complete category, tag, and sidebar customization provide the key navigation and interaction elements modern blog visitors crave. Advanced comment management tools help you customize moderation and approval settings to fit your specific needs, including the ability to integrate Disqus or Facebook commenting systems directly into your blog. If you can think it up, Weebly blogging software can make it happen.
Media and Third Party Integrations
Is your blog a photo journal, video diary, literary review, or maybe all three? With a range of media options and integrations available in your blog dashboard and the app center you can make it all work with ease.
Amplify Your Voice with Advanced Sharing and Scheduling Features
RSS and social sharing features are built into every blog to help amplify your message across the channels that matter. You can even schedule blog posts ahead of time with scheduled sharing on Facebook and Twitter along with custom network messaging. When you start a new blog, it's all about sharing your unique voice and opinions, and getting those ideas to a new audience every single day. Weebly blogging can help you get there.
Slideshow Maker
Create a stylish image slideshow with Weebly's online slideshow maker. Add your own captions and exercise full control over slideshow speed, transition, and auto play elements.
Show Off Your Photos
Weebly makes it easy to show off your photos in beautiful, professional photo galleries and slideshows. Upload images directly to your site and apply a variety of editing and display toggles to maximize visual impact.
Weebly Photo Library
Need help finding good photos for your website? Weebly users can take advantage of Weebly's extensive photo library. Choose from a searchable database of both free-use and paid photos and increase your photographic reach.
Online Photo Gallery for Your Website
Create a dynamic photo gallery in just a few clicks with Weebly's robust gallery builder. Simply select and upload photos to take advantage of advanced transition effects, automatic resizing, and a library of unique gallery layouts.
Free Image Upload and Photo Editing
Drag image elements and upload images directly to your website quickly and easily. You can add text, change borders, create a lightbox, crop, and inject a variety of compelling image effects.
Videos
Easily embed videos from YouTube and other video sharing sites onto your Weebly website.
YouTube Integration
Easily embed videos from YouTube and other video sharing sites onto your Weebly website. Adjust spacing and presentation elements on your live site with Weebly's simple video embed tool, or utilize the YouTube feature for more advanced and fluid use of YouTube videos. Weebly's video player options give you expert control over your website's media elements. You can also embed videos from other services like Vimeo.
Video Hosting and Upload
You can also upload video files directly to Weebly. Direct uploads will automatically convert for playback straight from your Weebly website. Visitors won't have to download any files or open a separate media player to view your video. You can host the content through Weebly and serve up high-quality media confidently to your visitors.
Search Engine Optimized
Powerful SEO tools to help search engines find you.
Everything You Need to Rank
Your website is automatically designed with search engine optimization in mind. All Weebly sites feature a sitemap, SEO-friendly HTML formatting, meta descriptions, responsive design and much more. More advanced search engine optimization settings are available as well, such as alt tags on images and page-specific descriptions. Sound confusing? Don't worry — we have an easy-to-follow guide to help you get your website highly ranked in search results.
Form Builder
Create custom forms and manage submissions
Drag and Drop Forms
Weebly's drag and drop online form builder makes it easy to build custom contact forms, RSVP lists, and surveys. Integrate these elements into your website for a variety of unique engagement and data gathering options.
Flexibility and Customization
Customize a form by dragging and dropping new fields (such as text boxes, drop down menus, and checkboxes) into any configuration. Fully customize questions and response types to create the specific form type you need. Control the settings for each field and add different elements to craft a customized contact form experience.
Gather, Review and Collect Data
The Weebly online form builder makes it easy to store and access your form responses. When a form entry is submitted by a visitor to your website, an email is sent to the address of your choice with the data. The data is also stored on your site's dashboard for easy review. You can export this data to a spreadsheet for future analysis. A powerful file drop box element also accepts documents, pictures, or other file uploads from your visitors. You can even control confirmation messaging after submission.
Full HTML/CSS Control
Power users have full control over the HTML and CSS used in the website theme. This means that you can completely customize the look and feel of the site, while also taking advantage of the Weebly drag and drop editor to create the website content. Our built-in theme editor provides you with a real-time preview of the changes made to the theme's code. You can also add custom Javascript to your site.
Password-Protected Pages
Enable password protection to stop unauthorized visitors from seeing your website. You can require a password for your whole website, or just individuals pages.