Build Campaigns
Create your first campaign in just minutes. Create custom incentives to encourage your ambassadors to promote your brand.
Simple Campaign Builder
Each campaign tracks a specific conversion event and may have a specific incentive each time the event is referred.
Custom Rewards
Create custom rewards to increase engagement and encourage sharing. Utilize monetary or non-monetary rewards.
Unique Share URLs
Ambassador creates unique URLs for each of your ambassadors. Our platform tracks their shares, clicks and conversions by channel.
Integrate
Ambassador enables you to get integrated quickly along with the flexibility to integrate seamlessly into your user experience. How? Via our prebuilt widgets and powerful REST API.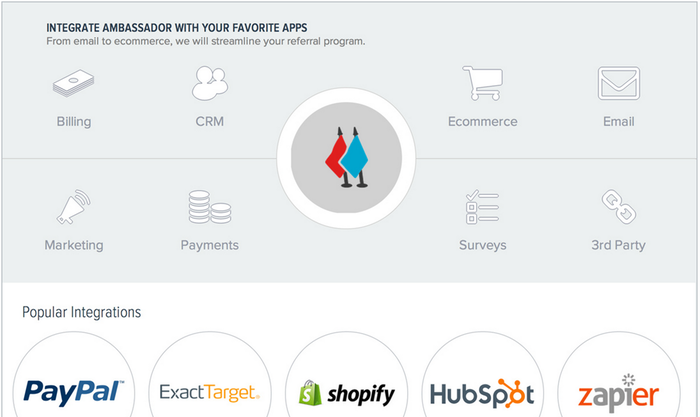 Refer-a-Friend Widget
Installing our refer-a-friend widget is simple, just copy and paste it into your existing HTML. Seriously, it's easy like Sunday Morning. Best of all, you retain the look and feel of your existing website.
Powerful RESTful API
Leverage our powerful API to create a seamless referral experience within your website or application.
3rd Party Integrations
Our platform also sends and receives data from the most popular 3rd party applications. Easily integrate email, billing, CRM, sales & marketing data with Ambassador.
Ambassadors
Easily turn Influencers, Users, Employees, Customers and Advocates into Brand Ambassadors. Leverage the collective power of their influence to drive new sales!
Automatic Ambassador Creation
Turn every customer into a Brand Ambassador. Display Share URLs in welcome emails or newsletters.
Ambassador Groups
Manage ambassadors by segmenting them into various groups. Assign groups to various campaigns for programs that perfectly fit with your business.
Valuable Ambassador Insights
View, sort and filter valuable insights on your ambassadors. Determine top ambassadors, ranked by specific categories.
Promote and Automate
Our platform automates your referral program. From emails, notifications and approvals to commission and gift card payouts -- we'll take care of it!
Customize Automated Emails
Use your own email design (HTML) and even have the automated emails sent from an email address at your domain! We'll send them for you, automatically.
Automatic Email Triggers
Set up custom triggers to notify ambassadors -- in real time!
Automated Gift Card Payouts
We've partnered with TangoCard to send gift cards instantly via email.
Understand and Manage
Track all of your key referral metrics on our amazing dashboard with in-depth reporting. Stay tuned, we're giving you access to the best social data.
One Dashboard to Rule them All
Our dashboard provides a 360 degree view of your referral program providing actionable insights with sophisticated filtering.
Channel Specific Metrics
Drill down to view referral metrics by specific social channel.