Get a complete contact view
The contact page gives you a birds eye view of everything you know about a contact so that you can keep track of the people, companies and other organizations that you do business with.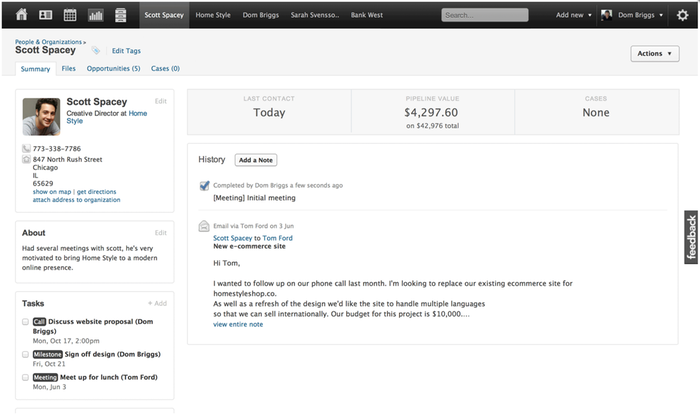 Manage your sales pipeline
Use Capsule to track bids, deals, proposals and other opportunities.
Make sure things get done
Manage your to-do list and calendar using tasks in Capsule to ensure things don't get forgotten.
Customize Capsule to fit your business
Create custom categories using tags such as vendor, lead, customer.
Manage groups of contacts with lists
Create lists by filtering your contacts using your own criteria such as which city they're in, how you've tagged them, when they were added, or using a custom field you have added.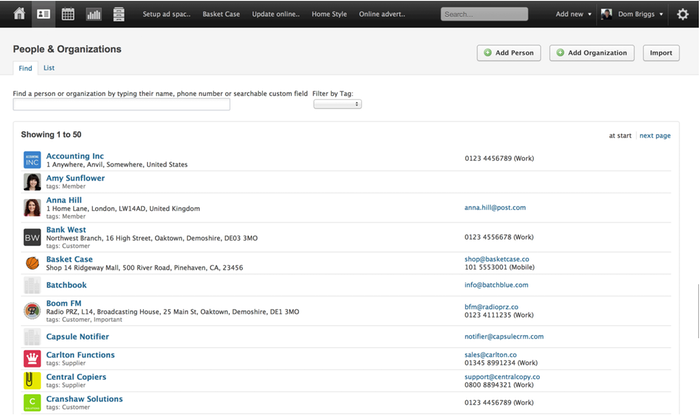 Security
Access your account from anywhere, securely
Serious data security
Our servers are hosted in Amazon's data centres. Amazon take both physical and network security seriously ensuring your data is safe. In addition, information that passes between your computer and our servers is encrypted using a technology called SSL which is the same technology that banks use to protect data.
Controlled access
No-one has access to your account unless you invite them. And unlike desktop applications, if your computer is lost or stolen your data is still safe and secured.
Always backed up
Your data is stored to multiple locations in real time, and in addition we automatically make a further backup of your data every hour.
One master copy
All your users share access to the one master copy of your data on our secure servers so there's no need to email around spreadsheets or worry about who's got the latest version of a document.
Automatic upgrades
There is no software to install with Capsule, and because you access it across the web you are always using the latest version.
Windows, Mac or Linux
Capsule is compatible with Windows, Mac and Linux running a recent version of Google Chrome, Firefox, Internet Explorer (V10+) or Safari (V7+). Just choose your favourite browser and you are ready to go.