CORE APP
Velpic LMS | Video Authoring | Streaming Portal
Single sign-on productivity
Your AppDirect login can give you access to a fully-featured video lesson creation and learning management system. Think of Velpic as a Learning Management System seamlessly integrated with its own content creator and secure viewing channel.
For administrators — simplify your training workflow
No extra password to remember or forget; just import your users!
Produce and repurpose training videos in-house fast, no technical background required
Quicker and simpler to schedule and follow-up on training
Comprehensive reports to support business decisions better
Accessible storage and retrieval of trainee records for better industry compliance
For learners — flexible learning on the go
No extra password to remember or forget
Learn better with self-paced video lessons, quizzes and tests
Intuitive 'resume' options for paused lessons facilitate micro learning
Access multimedia training videos anytime anywhere on mobiles or computers
Videos stream smoothly on both slow and fast Internet bandwidths
Integrated video authoring tool
You can create professional-looking training videos in-house using Velpic—even if you do not have a technical background in video production.
Get more done with less effort with Velpic's powerful video authoring solution
Create video lessons from scratch or accelerate the process by customising ready-made video lessons from Velpic Marketplace
Build visually-inspiring multimedia content with text, images, voiceovers, background music and embedded videos
Create your own comprehensive video training library and knowledge centre
Learn on the go!
Velpic's Internet-responsive videos play smoothly on both slow and fast bandwidth speeds.
Train your workforce better—via Velpic videos anytime anywhere
Trainees enjoy high-definition streaming without buffering delays
Opportunity to make productive use of waiting time between appointments
Make quizzes and tests available via mobile devices
Upskill your workforce with frequent micro learning sessions
Download Velpic's free native companion app from Apple App Store or Google Play
Google Play: https://play.google.com/store/apps/details?id=com.velpic.mobileplayer&hl=en
App Store: https://itunes.apple.com/au/app/velpic-learn/id1112069606?mt=8
Ready-made video lessons
Velpic comes with its own video lessons Marketplace where you could obtain high quality content in the form of animated video modules or explainers on popular workplace topics.
Train your workforce fast on these topics and more
Leadership and development, communication and social skills
Customer service, sales mastery, retail, health and wellbeing
Compliance, healthy and safety, toolbox talks, housing
Human resource, IT, project management, finance
Healthcare, safeguarding children, mental health awareness
Build your own on-demand library
Copy and edit training content to build a full library of video lessons with unlimited views to facilitate self-paced learning, recall and retention.
Time-savers for scheduling process
Eliminate repetitive administrative tasks and achieve more scheduling outcomes fast, with less effort.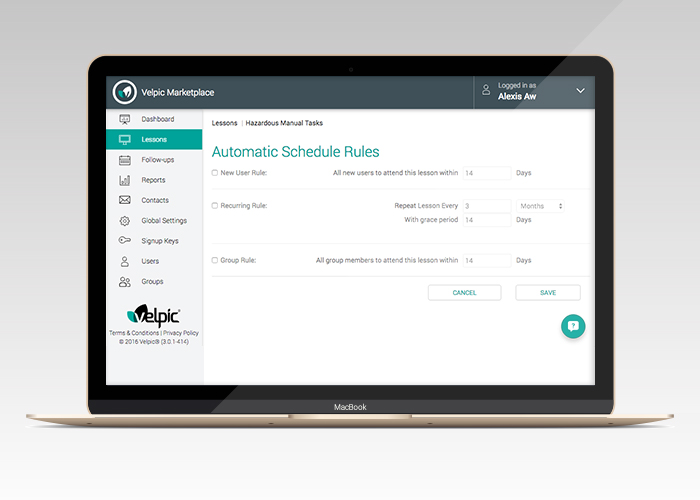 Smoother training administration
Easily group trainees, assign supervisors, and allocate lessons
Flexibility to assign multiple individuals to one group, or multiple groups to one individual
Option to follow-up via mobile Supervisor App
Choose from automatic or manual scheduling
Make certificates available for self-printing upon lesson completion
Easy follow-ups to track progress
Easily check which lessons are Due, Overdue or Completed for which trainees in which groups.
An Administrator can filter statuses by group
Quickly retrieve information on training
Train anyone anywhere anytime
Conduct timely and consistent quality training regardless of location or group size.
Video learning
Video learning delivers stronger training outcomes than face-to-face training, static PowerPoints or text-heavy manuals
Lessons are accessible via Internet browsers or on mobiles via the Learn App
Create all video lessons in one place but distribute them anywhere
Interactive quizzes and tests
Learners can take quizzes or tests during or after lessons to demonstrate how well they have understood lesson content.
Use quizzes to boost learning retention
Quizzes allow trainees to review what they just learnt to capture comprehension and boost recall
If there is a wrong answer, the chapter can be watched again and trainees must answer correctly to proceed
Use tests as certification criteria
In test questions, there is no feedback as to whether answers are correct
Managers can determine the passing rate as a percentage of all available questions
Comprehensive training reports
Keep all important training records at your fingertips and track lesson statuses.
Lesson statuses
DUE - A lesson that has scheduled to a trainee, and is within the assigned grace period.
OVERDUE - A lesson that is available for a trainee to watch, but has not been completed within the grace period.
COMPLETED - A lesson that has been watched and completed by the trainee. This includes lessons scheduled and lessons made available in the library.
Mobile Supervisor App
Check on trainee statuses, assign lessons, send reminders, cancel and manage lessons on the go.
More flexibility and productivity
Retrieve training information anytime on your smartphone
Manage compliance requirements more efficiently
Instant distribution
Download Velpic's free native companion app from Apple App Store or Google Play
App Store: https://itunes.apple.com/au/app/velpic-supervisor/id1085951243?mt=8
Google Play: https://play.google.com/store/apps/details?id=com.velpic.mobileadmin&hl=en
DIY result viewing and certificate printing
Once your trainee has completed a lesson, they will be notified via email within minutes and can print their certificate.