Mobile and web invoicing
With Fiskl, you can send your invoices the second the work is done, wherever you are. Create, preview and email beautiful customised invoices from any device in 60 languages and over 150 currencies. Set up recurring invoices to paid faster and have more time for your customers.
Powerful invoicing features
Bill for every minute on the job Use the automated time tracker and see exactly how much time you're spending on clients and projects. Once you've finished your work, add it directly to an invoice with just a few clicks.
Easy client management Your client data can be imported directly from your mobile and stored in one place, from here you will see, at a glance, just how much your client has outstanding and if there are any overdue invoices.
Get paid upfront with deposits No more paying for expenses upfront or waiting until the end of a project to get paid. Request a deposit on your invoice and just relax knowing you'll get the money you need at the start.
Expense scanning
Fiskl uses intelligent learning software to help you capture and process your receipts in seconds. Simply point the camera to your receipt or take a photo of it and Fiskl will automatically extract the vendor, date, currency and total.
Processing your expenses has never been easier
Real time scanning on mobile
Intelligent data extraction
Track billable or reimbursable expenses
Assign expenses to accounting friendly categories
Time Tracking
With Fiskl you can focus on the work, not on the clock. The built-in, easy to use timer with quick save functionality lets you track from anywhere. Whether on mobile or desktop, your timer will always be perfectly synchronised.
Bill for every minute spent on a project
Quick save timer option
Manual time addition for ongoing timer
Add to invoice directly from timer
Mileage Tracking
Take the guesswork out of your mileage logging! By using the integrated Google Maps and preset mileage rates, Fiskl will do the calculations for you. You'll have accurate mileage reports at your fingertips.
Products & Services
Maintaining a product or service list allows you to quickly add them to invoices, check previous services or product prices and taxes. Add photo and descriptions, create a duplicate for easy management and even maintain pricing in different currencies.
Keep a reference list to speed up invoicing
Reference product list (price/tax/units/photos)
Add product photos directly from your phone
Easily import an existing product or service list
Add to a new or existing invoice directly from the list
Each product or service can have its own currency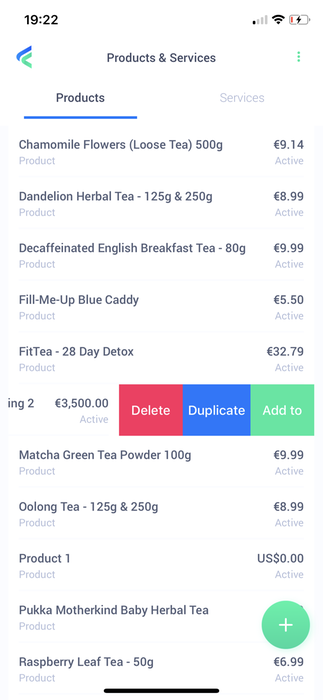 Tasks & Calendar
Plan ahead your whole month or quarter with events, project milestones or key business and accounting dates. Keeping everything in one place will help you better organise your days and the whole business. Google Calendar integrations are also coming this year!
Keep all your business tasks in one place
Easy to do list with reminders
Add project deadlines or client appointments
Check off your to do list each day
Client Management
Your client data can be imported directly from your mobile and stored in one place, from here you will see, at a glance, just how much your client has outstanding and if there are any overdue invoices.
Integrated client management
Import client directly from your phone
View invoices status for each client
User management
It's never been easier to manage your staff. Whether employees, contractors or temporary staff, you can add them to Fiskl and assign them permissions for managing items or billing. Add your accountant to help streamline your taxes and year-end filing.
Empower your team to reduce time spent on admin
Admin access for your accountant or office manager
Billing and estimate access for projects
Each member only sees their own items
The business owner has the full overview of the business
Business Overview
See how your business is doing in less than 30 seconds and get an instant snapshot of cashflow. Know exactly where you stand financially and plan ahead for what's next.
At a glance business health overview
Know what the top costs are in your business
Insight into upcoming cash flows
Review your sales and profitability
Day Planner
Keep your business to do list, project tasks and upcoming events/milestones in Fiskl. Every day you will see a snapshot of the day's tasks and upcoming events so you're always on top of your business.
A simple planner to help manage your day better
Quickly check your tasks for today
Review tasks that are due in the next days
Add important deadline reminders
Quotes/Estimates
Use mobile estimates to allow your business to compete effectively for projects! The mobile quotes feature allows you or any of your employees to instantly provide a quote to your client or soon thereafter. And by using the Products and Services list you can easily add pre-loaded services and check associated pricing and tax.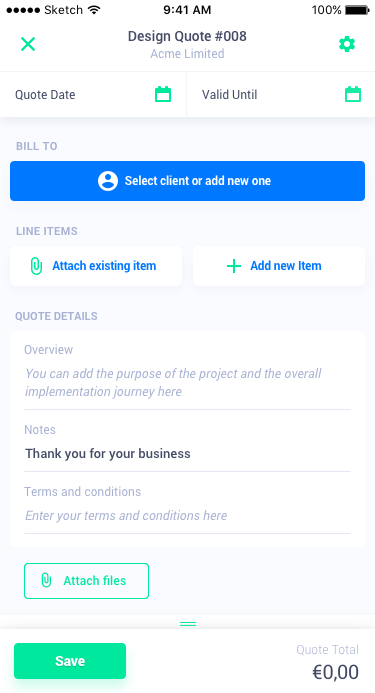 Provide quick client estimates
Win more projects and bring in additional income by providing your clients with on the spot estimates! Add your contract terms as well as a project overview, and take upfront deposits. And when the work is done, convert your quote to an invoice in one click!
Accept credit card and other payments
Add your preferred payment method and take any credit card, Apple Pay, Google Pay or Paypal payments from your clients.
Send off an invoice and get paid in minutes
Fiskl payments lets your customers pay directly through invoices and automatically records each payment in your account. It's fast, easy, secure and perfectly integrated.