Recruiting Dashboards
Best-in-class recruiting dashboards provide visibility.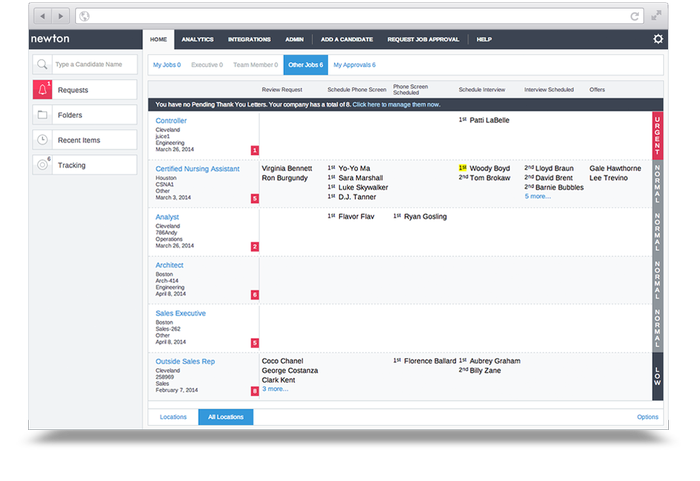 Smart Recruiting Workflow
Recruiting workflows that drive decisions. Green is go. Red is no.™
Beautiful Careers Site
Beautiful, fully-branded careers pages improve the applicant experience.
Online Applications
ZenApps provide powerful online employment applicants.
Recruiting Analytics
Recruiting analytics that measure what matters most.
Thank You Letters
The original thank you letter for every situation.
EEO / OFCCP Compliance
Best-in-class EEO and OFCCP functionality.
Newton Echo
Our idea: Simple tasks should only take seconds. With Echo people can change the status of candidates, capture interview feedback, and approve jobs and offers using email—no login required.
Here's how it works:
There are two parts to Newton Echo: the Comment and the Command. When any user replies to an Echo-enabled email sent from Newton, the system is automatically updated with a status change and any comments made by the user are tracked. This new functionality is specifically designed to improve the user experience for hiring managers and executives that have historically balked at using applicant tracking systems.
The following are some of the actions that Newton Echo will facilitate without requiring a login from the user.
1. Selecting an applicant for a phone screen or interview.
2. Providing interview feedback.
3. Approving or denying jobs and offers.
Approval Processes
Flexible job and offer approval processes provide visibility and control.
Email Templates
Customize email templates to save time and encourage collaboration.
Hiring Managers
Hiring managers love Newton: Green is go. Red is no.
Mobile Recruiting
Newton is the only applicant tracking system that is truly optimized for any smartphone, tablet, monitor and browser.
Social Recruiting
Simple, smart, safe, integrated social recruiting tools.
Employee Referrals
Share jobs. Vouch for applicants. Help your company hire.
An App for Employees
Newton's Gravity App was designed for mobile. You can share jobs from any device, anytime, anywhere.
As an employee, you'll earn rewards and points by choosing to like, post, and share jobs with connections. You'll also earn points when referrals apply and when they are hired (the prizes and rewards are determined by your employer).
When a referral applies to a job, you'll get an email asking you to vouch for the applicant (you don't have to if you don't want to). You'll always know who's using your name to get a job, and when someone gets hired you'll receive an alert.
The Gravity App is a social referral software integrated with Facebook, Google+, Twitter and LinkedIn.
An App for Employers
Export reports to reward monthly leaders, track referrals, and manage referral rewards.
Invite employees to sign up with the Gravity app. Sign-up takes about 1 minute.
The Gravity app will host a monthly leader board and will track all-time performance too. Employers have the flexibility to create monthly referral competitions and recognize all time referral leaders.
When an applicant applies, employees can vouch for applicants and the response will be privately stored in Newton so that your HR team can review it discretely.
If your company offers referral rewards, Gravity makes it easy to advertise and manage these rewards. Employers can even assign specific rewards for specific jobs.
Background Checks
Integrated background checks done right.
Integrations
Simple, smart and safe integrations.
HRIS and Payroll Providers
Newton has partnered with dozens of national and regional HRIS and payroll providers. This enables a simple export of your hired applicant data with just one click.
Background Checks
No one does background check integration better than Newton. We have integrated pre-employment screening directly into the hiring process so that it works flawlessly.
Selection Testing and Assessments
Integrate competency based pre-employment assessment tests designed to provide consistent and predictive information about your applicants.
Job Advertising
Newton has established integrations with the world's largest job search engines, job boards and social networks.
Cloud Apply
A user friendly tool to help applicants apply to employer's jobs.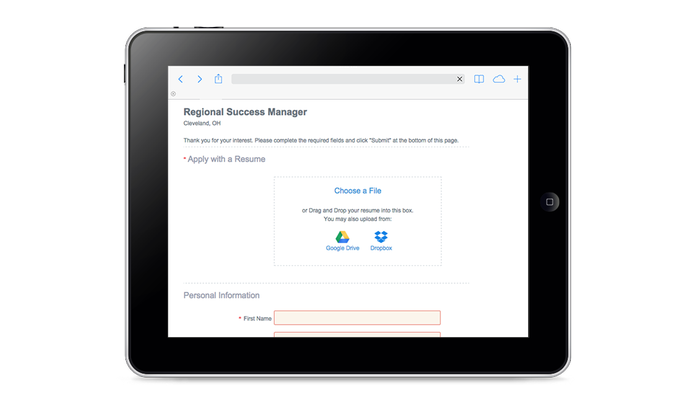 Interview Scheduling
An Interview scheduling assistant at your fingertips.
Check "free / busy"
Assemble your team and check "free / busy" from one screen. With Newton Interview Scheduling, employers will easily schedule interviews without leaving the platform.
Invite your team
Once the interview team is assembled, send the invites right from Newton. Use customizable email templates so interviewers will have the appropriate resume, documents and any special instructions for the interview in the invitation.
Invite your candidate
Employers keep recruiting communications tight and consistent with Newton! Send candidates on-brand email invitations to confirm interviews. Get more efficient. Users choose email templates that auto-fill the name of the interviewers, their titles and any special instructions or directions designed to prepare and confirm the candidate for the interview. Remember, a well prepared candidate is one of the keys to smart interviewing.
Confirm and reschedule
When schedulers are finished scheduling and sending the invites, Newton will inform users who has confirmed the interviews. Smart alerts are easily configured to warn interview schedulers if an interviewer has not confirmed an interview or needs to reschedule. And, if someone needs to reschedule, Newton will assist the you with rescheduling without starting from scratch.
Resume Parsing
Every word of every resume parsed and made searchable instantly.
Smart Tags
Manage, organize and rediscover applicants with Smart Tags.