Recruiting Dashboards
Best-in-class recruiting dashboards provide visibility.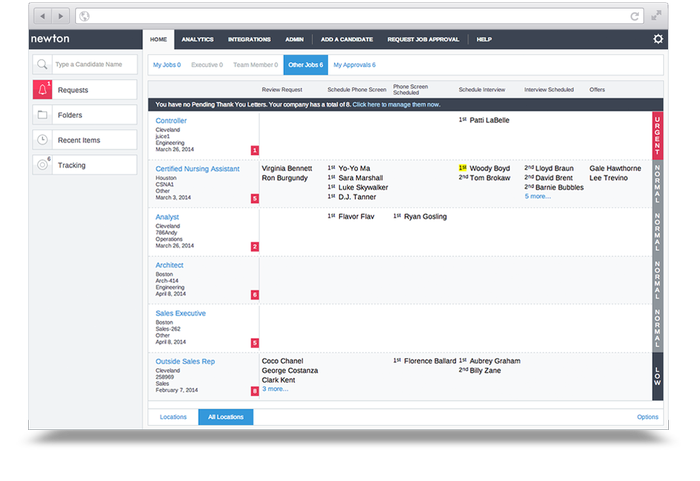 Newton is designed to give you and your team unparalleled visibility into your recruiting program from day one. From candidate pipelines to job and offer approvals to key recruiting analytics, Newton's dashboards provide mission-critical information to answer the most frequently asked questions about your recruiting program while promoting accountability.
Starting right from your homepage, Newton presents an easy-to-read dashboard that serves as air-traffic control for your entire recruiting program. Dashboards also serve as task managers for busy recruiters and hiring managers. With Newton, nothing slips through the cracks.
Newton also provides best-in-class analytics dashboards for users that want to check on recruiting performance at-a-glance. There's a dashboard that provides an overview of all your critical approval processes in the pipeline too. And, there's even a dashboard for managing background checks and other key integrations.
Smart Recruiting Workflow
Recruiting workflows that drive decisions. Green is go. Red is no.™
One of the core advantages that sets Newton apart from other recruiting software is that Newton is designed to work the way that recruiting works. As the brainchild of former corporate recruiters, Newton is smart and intuitive. It has recruiting knowledge built in so you'll be able to use Newton from day one with very little customization.
Green is go. Red is no. In between is a flexible process that works for just about every company on the planet. Skip ahead or move an applicant back in your process, Newton is flexible and is designed to be like hiring – dynamic.
Smart alerts trigger action and encourage decision making. Best of all, Newton keeps the process simple. No hassles, no confusion and nothing new to learn.
Beautiful Careers Site
Beautiful, fully-branded careers pages improve the applicant experience.
Whether you have few IT resources or an entire fleet of designers, Newton makes it easy to have a fully-branded careers site that looks exactly like the rest of your corporate website, same colors, same fonts, same everything.
With Newton, there are 3 options that employers can choose from to integrate job listings from their Newton account onto their websites. Most integrations take a matter of hours to get your fully-integrated, branded careers page completely up and running. Our team provides the support.
Newton uses modern technology and won't force applicants to another browser or create a popup window. And, Newton comes with helpful features like Cloud Apply and ZenApps to instantly improve the applicant experience. And, with Newton, every applicant will always receive a customized acknowledgement after they have successfully applied for a job if you choose.
Online Applications
ZenApps provide powerful online employment applicants.
With Newton, employers have the flexibility to customize the online application process to meet their needs and to ensure compliance. Choose to make the process simple by just asking applicants for a resume. Or, require applicants to complete an online employment application.
Employers work with Newton's services team to create and test custom online employment applications. Required fields guarantee that you are safely collecting the correct information from every applicant.
Use minimum qualification questions and employment applications together to ensure that your team is reviewing the right applicants. And, when combined with Newton's Cloud Apply and advanced document parsing capabilities, Newton will automatically fill out job applications in real time when job seekers upload a resume from any mobile device or desktop dramatically improving the applicants' job seeking experience.
Recruiting Analytics
Recruiting analytics that measure what matters most.
The key to recruiting analytics is user data. The more users interact with technology, the more data is collected. Newton is designed to be user friendly for both recruiters and hiring managers allowing users to do what they need to do with very few clicks.
As such, Newton delivers the most advanced reporting and analytic functionality of any applicant tracking system available. Using our innovative reporting dashboards, you will quickly get answers to the most common questions that arise in corporate recruiting.
Newton's reporting features empower you to zoom into areas that interest you in real-time. Interactive, easy-to-read graphs and charts allow you to drill into your recruiting program and tell you the story behind important events and trends.
And, Newton is equipped with a custom reporting engine that features a common-sense drag and drop interface to ensure anyone can create reports. Once you create a report, you can run it, save it and export it any time.
Thank You Letters
The original thank you letter for every situation.
We believe that applicants deserve closure and no company wants to be a black hole applicants go to be lost forever. In 2009, Newton's product team invented the first Thank You Letter feature and we've continued to improve it ever since. Often imitated by other vendors, Newton's stage specific, rich text Thank You Letter functionality remains unrivaled.
Our product team thoughtfully designed Newton's Thank You Email functionality to provide a great experience for both employers and applicants. Employers can edit Thank You Email templates on the fly and Thank You Emails can even be scheduled and delayed.
Newton comes with configurable templates for each stage of the recruiting process. Edit them to add a personal touch when appropriate and create a consistent recruitment brand with very little effort. Don't have time to edit a bunch of templates, no problem. Newton hired industry veterans to write templates that we include with every Newton account for at no extra cost.
EEO / OFCCP Compliance
Best-in-class EEO and OFCCP functionality.
Recruitment compliance is a front-of-mind topic for recruiting practitioners today and is too important to be left to chance. While OFCCP regulations are specifically for employers with federal contracts, it is the responsibility of every U.S.-based employer to eliminate discrimination in their hiring processes. At Newton, we take compliance seriously.
When you choose Newton, you'll have the most complete, up-to-date, EEO / OFCCP tracking and reporting tools available. Complete pre-hire compliance functionality is built into Newton at its core creating a seamless experience for users while providing a powerful functionality that will track and report all of the information required by the government.
Applicant flow logs, hires and offers logs, reasons for non-selection, minimum requirements, Section 503 and VEVRAA compliance, Newton has you covered.
Newton Echo
Our idea: Simple tasks should only take seconds. With Echo people can change the status of candidates, capture interview feedback, and approve jobs and offers using email—no login required.
At Newton we're always looking to make hiring simpler, smarter, and safer. Newton Echo is the simple and smart answer to busy hiring managers and executives that don't have time to log in to their applicant tracking systems. With Echo, your managers keep the recruiting system up-to-date just by responding to email.
Here's how it works:
There are two parts to Newton Echo: the Comment and the Command. When any user replies to an Echo-enabled email sent from Newton, the system is automatically updated with a status change and any comments made by the user are tracked. This new functionality is specifically designed to improve the user experience for hiring managers and executives that have historically balked at using applicant tracking systems.
The following are some of the actions that Newton Echo will facilitate without requiring a login from the user.
1. Selecting an applicant for a phone screen or interview.
2. Providing interview feedback.
3. Approving or denying jobs and offers.
Approval Processes
Flexible job and offer approval processes provide visibility and control.
Large employers aren't the only ones that need job and offer approval processes. Now small and medium-sized organizations leverage Newton to create flexible, user-friendly, automated, email-driven job and offer approval processes.
Having used complicated, rigid tools in the past ourselves, we felt it was time to revamp approval processes. Newton's approval processes are easy and effective, providing the control and visibility that hiring managers and executives demand, and HR professionals require to manage the business end of recruiting.
Smart dashboards let you track your jobs and offers through each process. And, smart alerts remind users when something needs their attention. Every employer customizes approval forms and processes and Newton even provides custom reporting on fields added to the system.
Email Templates
Customize email templates to save time and encourage collaboration.
Interview feedback, directions to the office, interview confirmations, request for references. How many times do you think you've written the same recruiting email?
Newton's email template feature is like having a recruiting assistant at your fingertips. Add, edit and remove templates in Newton and then use the drag and drop email helper to send emails directly from the system. Emails look like you have sent them from your primary email client and all the tools are set up without any support from IT.
Newton's email templates reduce repetitive tasks and adds time to people's days, freeing them to do what they do best.
Hiring Managers
Hiring managers love Newton: Green is go. Red is no.
Designed by recruiting professionals, Newton provides automation, transparency, and data to hiring managers so they can make decisions and collaborate quickly and effortlessly. With Newton, recruiting becomes a part of hiring managers' daily routines with little to no training.
We understand that hiring managers aren't always the first to embrace applicant tracking systems. That's why we build features like Newton Echo specifically for managers and executives. With Echo people can change the status of candidates, capture interview feedback, and approve jobs and offers using email—no login required. Newton Echo is the simple and smart answer to busy hiring managers and executives that don't have time to log in to their applicant tracking systems. With Echo, your managers keep the recruiting system up-to-date just by responding to email.
Newton is designed to give your team unparalleled visibility into your recruiting program with easy to read recruiting dashboards that serve as air-traffic control for hiring. Managers can view talent pipelines for their specific jobs and view analytics that promote collaboration and accountability. Newton even has task management features for hiring managers so nothing slips through the cracks.
With Newton, hiring managers have unparalleled access to recruiting data. Newton is completely optimized for use on any smartphone, tablet and computer making mobile recruiting a reality. Newton's responsive design understands what screen size is being used to access the product and automatically provides context and will appropriately juxtapose the right data being displayed, with the right controls, on any device, browser or platform, all the time – fast!
Mobile Recruiting
Newton is the only applicant tracking system that is truly optimized for any smartphone, tablet, monitor and browser.
Hiring managers, recruiters, HR people and executives all want to use different means to access recruiting data these days.
For an applicant tracking system, a mission-critical business app, one layout of data and controls does not work anymore given the variety of screen variations that people want to use. Scrolling, zooming, pinching and squinting are not viable options for users anymore.
Newton's responsive design understands what screen size is being used to access the product and automatically provides context and will appropriately juxtapose the right data being displayed, with the right controls, on any device, browser or platform, all the time – fast!
Social Recruiting
Simple, smart, safe, integrated social recruiting tools.
Newton's social recruiting solutions provide employers with simple, smart, safe ways to leverage the relationships that people build with your brand. All of our social media tools are fully integrated with Newton and employers use them at no additional cost.
Use Newton's social recruiting tools to provide future employees with a place to connect with your organization using a branded Facebook Careers Site, and put your jobs and employment brand in front of millions of passive candidates on their favorite social network.
That's not all. Newton has created The Gravity App, an employee referral application that's social, mobile and engaging. Employers create referral programs to recognize and reward employees that take an active part in the hiring process. Gravity makes it easy for every employee to share jobs to their networks, vouch for the applicants they know and receive incentives for being a team player. Learn more about The Gravity App.
Employee Referrals
Share jobs. Vouch for applicants. Help your company hire.
The Newton Gravity App is an employee referral tracking software application that's social, mobile and engaging. Employers create referral programs to recognize and reward employees that take an active part in the hiring process. Gravity makes it easy for every employee to share jobs, vouch for the applicants they know and receive incentives for being a team player.
An App for Employees
Newton's Gravity App was designed for mobile. You can share jobs from any device, anytime, anywhere.
As an employee, you'll earn rewards and points by choosing to like, post, and share jobs with connections. You'll also earn points when referrals apply and when they are hired (the prizes and rewards are determined by your employer).
When a referral applies to a job, you'll get an email asking you to vouch for the applicant (you don't have to if you don't want to). You'll always know who's using your name to get a job, and when someone gets hired you'll receive an alert.
The Gravity App is a social referral software integrated with Facebook, Google+, Twitter and LinkedIn.
An App for Employers
Export reports to reward monthly leaders, track referrals, and manage referral rewards.
Invite employees to sign up with the Gravity app. Sign-up takes about 1 minute.
The Gravity app will host a monthly leader board and will track all-time performance too. Employers have the flexibility to create monthly referral competitions and recognize all time referral leaders.
When an applicant applies, employees can vouch for applicants and the response will be privately stored in Newton so that your HR team can review it discretely.
If your company offers referral rewards, Gravity makes it easy to advertise and manage these rewards. Employers can even assign specific rewards for specific jobs.
Background Checks
Integrated background checks done right.
Through deep integrations with leading NAPBS certified background screening partners, Newton provides employers with a simple, smart and safe way to perform background checks. Newton's background check integration shifts the collection of sensitive data from your company and moves that responsibility to the experts – background check providers.
Increasing visibility and accountability, Newton audits the entire background check process and provides real-time status for every background check requested, started and completed (or not completed). Newton's customers never lose a background check or need to wonder about the status of a screen. And, best of all, you'll never chase an applicant's release forms around nor store sensitive information in your email inbox again.
For the fulfillment end, our preferred partners have the technology to connect with Newton seamlessly, and provide our customers with significant additional value and outstanding service.
Integrations
Simple, smart and safe integrations.
Newton's 3rd party integrations are some of the smartest in the industry. By carefully selecting our integration partners and working with them closely, we ensure that our integrations work flawlessly without requiring any set-up from your IT department. And, you'll never have to license third-party technology to integrate with our partners. In fact, nearly all of our integrations are implemented at no charge to employers.
HRIS and Payroll Providers
Newton has partnered with dozens of national and regional HRIS and payroll providers. This enables a simple export of your hired applicant data with just one click.
Background Checks
No one does background check integration better than Newton. We have integrated pre-employment screening directly into the hiring process so that it works flawlessly.
Selection Testing and Assessments
Integrate competency based pre-employment assessment tests designed to provide consistent and predictive information about your applicants.
Job Advertising
Newton has established integrations with the world's largest job search engines, job boards and social networks.
Cloud Apply
A user friendly tool to help applicants apply to employer's jobs.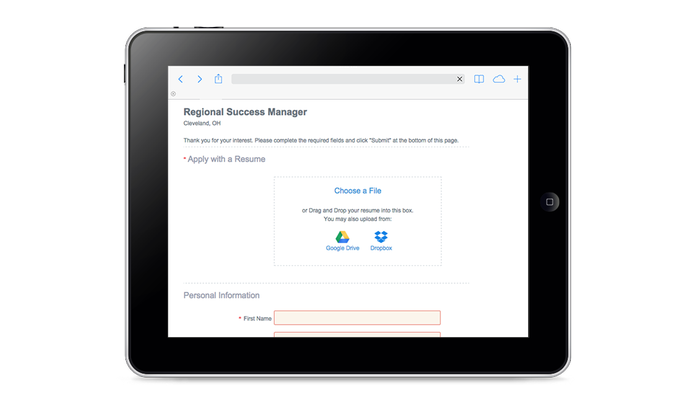 It's undeniable; today's workers are mobile. Whether you're a mid-market manufacturing company or in the healthcare business, it's inevitable that job seekers want to access your careers website and apply to job openings from smartphones and tablets. Until recently, many popular mobile devices have lacked a sufficient filesystem (storage) to store applicants' resumes. However, this barrier is quickly eroding with the nearly ubiquitous adoption of personal cloud-based storage services like Google Drive and Dropbox.
Cloud Apply from Newton represents the latest trend in the recruiting technology industry. Cloud Apply lives on employers' careers pages and empowers job seekers to submit resumes stored in cloud services or on a computer. Job seekers can use any device or computer they choose to complete the job application process and will be impressed with how simple the process is. Employers using Newton's Cloud Apply benefit from higher applicant conversion rates and by receiving more accurate, more complete information from applicants.
Cloud Apply used in conjunction with Newton's ZenApps and Resume Parsing tools create a win-win for employers and applicants alike.
Interview Scheduling
An Interview scheduling assistant at your fingertips.
Packed with innovative, reliable functionality, Newton's Interviewing Scheduling tools are the most modern and deeply integrated in the applicant tracking industry. Customers won't be forced to use a third party tool or integrated partner to schedule interviews. Set up is easy and requires little IT support.
Featuring seamless integrations with MS Outlook and Gmail, Newton Interview Scheduling provides next-level efficiency and communication tools for employers. The integrated calendar functionality also serves as a springboard and platform for more powerful interview management features that allow employers to capture quantitative and qualitative interview feedback empowering employers to drive the decisions that drive hiring.
Here's how Newton's Interview Scheduling Tools work:
Check "free / busy"
Assemble your team and check "free / busy" from one screen. With Newton Interview Scheduling, employers will easily schedule interviews without leaving the platform.
Invite your team
Once the interview team is assembled, send the invites right from Newton. Use customizable email templates so interviewers will have the appropriate resume, documents and any special instructions for the interview in the invitation.
Invite your candidate
Employers keep recruiting communications tight and consistent with Newton! Send candidates on-brand email invitations to confirm interviews. Get more efficient. Users choose email templates that auto-fill the name of the interviewers, their titles and any special instructions or directions designed to prepare and confirm the candidate for the interview. Remember, a well prepared candidate is one of the keys to smart interviewing.
Confirm and reschedule
When schedulers are finished scheduling and sending the invites, Newton will inform users who has confirmed the interviews. Smart alerts are easily configured to warn interview schedulers if an interviewer has not confirmed an interview or needs to reschedule. And, if someone needs to reschedule, Newton will assist the you with rescheduling without starting from scratch.
Resume Parsing
Every word of every resume parsed and made searchable instantly.
Newton comes equipped with enterprise-grade commercial resume parsing technology that allows employers to accept and add applicants easily. Used by industry leading job boards and other world-class HR Technology providers, our resume parsing technology is time-tested and produces the most accurate data in the industry.
At Newton, we believe that applicants are the currency of recruiting. Every word of every applicants' resume is parsed and indexed in Newton to provide employers with a highly searchable database. Newton even parses comments, notes and interview feedback making the metadata you collect and store in Newton searchable.
Smart Tags
Manage, organize and rediscover applicants with Smart Tags.
Newton's product team created Smart Tags to empower employers to easily manage and organize important information about candidates. Just click a button and start typing. Newton will recommend similar tags that have been created by any user at your company.
Smart Tags help employers build a knowledge base for the future. As you add tags for each candidate and develop a tagging system that best works for your team, you automatically create a highly searchable repository of valuable information you can tap into when new roles open up. Search for candidates by tag and use a filter to discover applicants that have made it to critical stages in your hiring process. Managing, organizing and discovering with Newton is simple.