Recognition
When we saw how a recognition-focused system could improve lives, we committed ourselves to changing the world one thank you at a time®. Partner with Kudos, and you'll be implementing vetted software that has employee recognition at its core.
Appreciate from Every Front
Cultures of appreciation happen when everyone has a way to say "thank you". When you use our employee recognition program, you get two modes for inspiring the best out of your people.
Peer-To-Peer Recognition
Kudos gives your team a formal place to recognize and appreciate one another daily. But we go above and beyond the rest with our built-in functionality that ties peer recognition back to company values and reinforces the behaviors that mean success for your organization.
Manager-To-Peer Recognition
When an employee does something truly special, they deserve Kudos that stand out. Kudos facilitates a positive, top-down recognition program via Awards and Badges. You designate who in your company has permission to send them, and they're also completely customizable to your company's brand and culture.
Recognition Perfected
Carefully engineered, each component of a Kudos message has employee recognition and appreciation best practices in mind. With us, timely, specific and meaningful recognition is sent every time.
Give Effective Employee Recognition
Personalized Recognition

An auto-populating 'To' field lets you quickly select recipients. There's even built-in CC and @ functions to get the attention of a manager or coworker.

Select a Recognition Level

Only recognizing the 'big' accomplishments means missing out on the great things happening every day. Our employee recognition software amplifies engagement by letting users choose the level of recognition they'd like to give. Assigning a point value to recognition levels is an optional feature that can be turned on or off.

Assign Values

When recognition messages are sent, the sender selects company values that reflect the work being recognized. Assigning values enables you to positively and publically reinforce your organization's culture and mission.

Attach Awards, Badges, Stickers or Files

Add emphasis to a recognition message by attaching a sticker, or collaborate with the team by attaching a file. Managers can also use awards and badges to recognize outstanding achievements.

Public or private

A kudos message can be visible only to the recipient(s), or it can be made public on the Team Wall.
There's an Award for That
Awards are the heart and soul of Kudos Manager-to-Peer Recognition, and are customizable elements that help you honor those achieving great things.
Pair it with a Badge of Honor
Whenever managers send an Award via Kudos, they can select a dynamic point value for the achievement and send an iconic Badge along with it.
K+™ :: The Evolution of 'Like'
Inspired by the popular 'Like' feature used on social networks, K+ goes one step further by giving users a way to show their support and agreement with a Kudos recognition message. Since K+ has an associated point value, it goes beyond simply 'liking', and is an excellent way for coworkers and managers to let the team know they notice and endorse all the excellent work being accomplished.
Send and Request Feedback
Make checking in a regular thing with a Kudos Feedback message. Always private, Feedback messages can be sent from employee to employee or from manager to employee.
Leaderboard Widget
Points leaderboards showcase the top five Kudos senders and receivers each month, and bring a light gamification element to your engagement program. This widget highlights your culture ambassadors and those who are making an impression on their peers and the organization.
Celebrate Birthdays and Work Anniversaries
Kudos never misses a chance to celebrate! The Kudos system automatically sends out customizable emails and Kudos points to your employees on these special occasions. A message is also automatically posted on the Team Wall so everyone can take part in the celebration.
Recognize in Any Work Environment
KudosTV
Kudos Kiosk
Paper Kudos
Rewards
Make your employee recognition and rewards program a touch sweeter by letting your people take their hard-earned Kudos points on a virtual shopping spree. Our Rewards feature is an optional, flexible and customizable space that's free from high fees and mark up charges.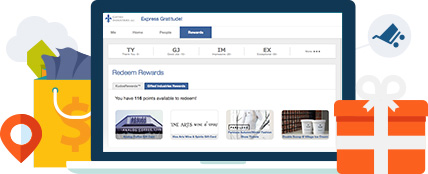 KudosRewards
With our online eGift card store and shopping cart, it's never been simpler to create a reward program for employees that's centered around what your team loves.
Custom Rewards
You know your people best, and we give you the option to quickly and easily create a rewards catalog unique to your organization right in Kudos.

Create Your Own Online Catalog and Shopping Cart

Custom Rewards is a feature that lets you custom select what items you'd like to put in a virtual catalog. From movie tickets to dinner at a local restaurant to VIP parking, your team will love using their Kudos points on a handpicked shopping spree.

Simple Rewards Management for Happy Admins

We know Rewards management can be a big job, so we built in functionality that automatically:
Deducts and recalculates points after a redemption
Alerts the redeeming user and the Admin responsible via email
Updates inventory every time a user redeems an item
Displays a status for each reward request of 'Pending', 'Approved' or 'Cancelled'
Admin
Kudos usability can't be beat. Manage your theme, users, reports and security without breaking a sweat.
Reflect Your Culture and Brand
Kudos doesn't just enhance your corporate culture; it fits right in. Customize virtually every element, and make it a mirror for your organization.
Security and User Privileges
Administration on Kudos has two levels: Admins and Super Admins. Admins have access to a wide variety of features, and if you choose, individual users can also be given specific Admin privileges.

Super Admins are the true gatekeepers of Kudos and preside over:

Session Time Out Provisioning
Setting Password Strength Requirements
Force Password Resets
Message Moderation Settings
User Subscription Management
Report. Export. Repeat!
Run detailed reports at any time to get a high-level overview on company engagement levels, or go deep and segment information based on individuals, departments, locations and types of messages sent. Reports are easily exported and pair great with internal initiatives like performance reviews.
User Management
Become a people person with Kudos' streamlined tools

Invite or Remove Users with Ease

Whether you add one, or thousands, it's a breeze. Our integrations and SSO capabilities save you time by letting you pull user information from systems like Yammer and Active Directory. We also have an API that lets you manage users from other HRMS systems.

Customize Welcome, Birthday and Work Anniversary Emails

Use your own words to communicate with the team for a deeper connection. Birthday and work anniversary emails are automatic, so you never miss a cause for celebration.

User Directory and Profiles

View all your people in one spot! Each Kudos user has a fully customizable User Profile that can be accessed from the Directory at any time.
Analytics
You'll also get results you can track, segment, measure and export. Kudos was designed to deliver serious improvements in culture, and that's why our dashboard, KQ® Analytics and reporting features are so robust. We do have to warn you, effortlessly measuring metrics like user activity and number of interactions is highly addictive.

The Dashboard Dreams Are Made Of
Be prepared to feel like a kid in an HR analytics candy store. The Kudos dashboard is an interactive, visual buffet of easy-to-interpret information and statistics on:
Organizational KQ® & Top Values
Point Usage, Redemption and Distribution
Leaderboards by Location, Department, Groups and Individuals
Number of Recognition Message Sent
Most Commented Messages
Team Wall and Overall Kudos Activity Breakdown
Collaboration Level Between Users
KQ® Analytics
Group KQ®
Location KQ®
Organizational KQ®
Exclusive to Kudos, KQ Analytics is a revolutionary visual representation of a user's top Kudos qualities and engagement level. The outside 'petals' of a user's KQ grow and change in response to the values attached to the recognition message they receive. On the flip side, the smiling centerpiece of their KQ grows as they give recognition.
View multiple KQs within your company:
Personal KQ®
Report Every Last Detail
Kudos Reports give you deep insight into Kudos activity, quality of recognition, usage rates, point redemption, and a whole lot more. You'll also have access to every user's individual KQ, and Reward transactions.
CSV Export with Ease
Any report run in the Kudos system can quickly be exported and downloaded as a CSV. Just click, download and go! To make reporting even more specific and valuable to your HR and management efforts, we also give you an abundance of filter categories like time period, location, users and level of Kudos messages sent and received.
Mobile
Small screens mean big employee engagement results. We put social recognition and appreciation in the palm of your hand anywhere, anytime, on any device. Best of all, there's no loss of functionality.
Recognize on Your Preferred Device
Mobile Kudos isn't just for iPhone and Android users; our mobile web app has a responsive design for an amazing user experience on smart phones and tablets.
Give Recognition Quickly and Easily
The Kudos mobile interface is optimized for simple and intuitive giving. You'll also be able to check out the recognition and Awards given to you.
Stay Connected with Your Peers
Comment, send and receive feedback, view wall activity and see who's on the Kudos leaderboard in just a few taps.
Award on the Road
Recognize outstanding work from anywhere by sending Awards. Every Award sent from your mobile device will also include an iconic Badge and a printable certificate.
Redeem Points for Rewards
Access your Rewards shopping cart from anywhere, and redeem Kudos Points for whatever suits your fancy.
Integrations
Kudos integrates quickly and easily with your favorite platforms to help your people continue to do great work. Make your sharing, communication and collaboration tools even stronger by never missing a "thank you" opportunity again.
Yammer: A Match Made in Corporate Social Network Heaven
Integrating Yammer with Kudos brings the power of recognition and appreciation messages right in to your Yammer feed for all the company to admire. When it comes to improving collaboration and efficiency while reinforcing corporate values, these two systems were made for each other.
SharePoint: Appreciate Great Work Where It's Happening
SharePoint is your hub for all things project collaboration, but taking the time to stop and say "thank you" can get lost in the shuffle. Integrate with Kudos and instantly build a hub for employee engagement right in to your user's SharePoint screen – allowing for recognition on the spot!
Gmail: Recognize Right From Your Inbox
Many companies now take advantage of Gmail's simplicity and usability for their corporate email management, calendars and virtual meetings. To keep things equally simple and easy, integrating with Kudos lets users view Kudos activity, messages and send meaningful recognition right from their email inboxes.
SSO: Keep It Simple Smartie
Make the wise move and get on the fastest path to identity management with SSO! SSO lets your users log in once and gain access to multiple systems without being prompted to log in to every time. You can connect your Kudos account with numerous services you log in to every day.
LinkedIn: Get a Professional Opinion
Integrating LinkedIn and Kudos together lets users showcase the recognition and accolades they receive to their extended professional network. This integration gives you the opportunity to celebrate your company, show off your culture to a broad network and share the best recognition with the professional world.
Skype: An Efficient Conversation Starter
Integrate your Kudos account with Skype to enhance instant communication and collaboration amongst members of your team. Kudos users can simply click to initiate a call about the next big thing.
Zendesk: Give Kudos for Great Customer Service
Integrated users never have to divide their attention between outstanding customer service and taking the time to saying "thank you". Build a culture of excellence in customer service and support by sending Kudos from directly within the Zendesk platform. Your happy team will thank you!
Supercharge Recognition with Browser Add-Ons
Browser Add-Ons are the little buttons that live on your web browser's toolbar that can enhance functionality to unlimited levels. Add-Ons allow you to quickly send Kudos without having to change web pages, open a new tab, or even go into the main Kudos application. They're time savers that will send recognition soaring!
Security
On Kudos, you'll never feel anything less than 100% confident that every security measure, protocol and technology is guarding your information. Our obsession with information protection keeps your company and user data far from harm's way.
Secure Cloud Hosting
ISO 27001 Certified Infrastructure

Our certified, off-site infrastructure offers a scalable, reliable platform that is fast and secure.

Data Center Security

24 hours a day, 365 days a year Kudos is hosted in an offsite data center that is equipped with video surveillance, biometric and pin-based locks, strict personnel access controls and detailed entry logs for visitors.

Global Hosting Infrastructure

We are able to provide localized infrastructure in North America, South America, Europe, Asia, Africa and Australia.

Separated Application and Data Servers

Servers that store customer data are physically and logically separated from the Kudos web application servers.
Safeguards
SSL Secure Connections

All information traveling between your browser and Kudos is protected from eavesdropping with 256-bit SSL encryption.

Firewalls

Our application, and your data, rests securely behind industrial strength Firewalls.

Single Sign-On (SSO)

Kudos supports SAML 1.1/2.0-based SSO.

Vulnerability Scanning

Scans and external extended penetration testing are performed on a regular basis.
Privileges and Privacy
Session Management

Administrators on Kudos can close an open session for any user on their network, and the length of a session is also customizable.

Least Privilege

AccessPolicies and procedures are in place to ensure that users are only allowed access to the information necessary.

Password Policies

Policies can be set for length, date of expiration and complexity to match the password policies required by your organization. This is a customizable feature in Kudos that can be turned on or off.

Administrator Controlled Authorization / Privacy / Privileges

Your Super Admins and Admins on the Kudos system have master control over all authorizations, privacy and privileges.
Reliability and Compliance
Reliability and Disaster Recovery

Our data is secured in the cloud, and we have documented processes and plans in place for disaster recovery and business continuity. As well, all back ups made are encrypted and stored offsite.

US Government Data Sensitivity Compliant

Passed US Government data sensitivity requirements.

508 Compliant

Passed US Government accessibility requirements for the hearing and visually impaired.