Integrations
Leverage the power of hundreds of tools when you use Segment as your customer data hub. Advertising, analytics, ecommerce, heat-mapping, a/b testing, email marketing, CRM - you name it, we've got it.
Our Integrations
Advertising
Which ad is driving the most sign ups? Advertising tools allow you to add event tracking and ad retargeting to better understand your site visitors, where they came from, and if your campaigns are working.
Analytics
What are customers doing before they churn? Analytics tools allow you to visualize your data, see how customers use your product, and identify trends, so you can make better business decisions.
Marketing Automation
Did that newsletter send traffic to your site? Email marketing tools make it easy to send newsletters and other marketing materials to your customers. Integrating with these tools makes it easy to setup drip campaigns for your product.
Sales and Business
What sales leads and customers need the most attention today? Sales & business tools help you track leads throughout the sales funnel, manage customer relationships, and run outbound campaigns.
Customer Support
How can I answer any questions my customers have? Customer support tools help you communicate with current customers to answer their questions, provide support, and identify recurring issues.
Developer Tools
Why couldn't new users sign up for accounts yesterday and how much money did we lose? Performance and error reporting tools help you improve the health and stability of your application by automatically logging and tracking errors and alerting you when there is any downtime.
User Testing
What is the best homepage copy for driving sales? Testing tools give you insight into how people are using your product, so you can optimize your design. Experiment with variations using A/B tests and understand behavior with heat maps to see what version works best.
SQL
Track data with Segment. Query in Amazon Redshift. It's that easy. We'll transform, load, and schematize your raw data into a hosted relational database for you to explore with SQL or visualize with our integration partners.
Track your customer data to Amazon Redshift
We'll spin up a Redshift database and configure it for you. Then we'll start transforming events and loading your events every 4 hours.
Connect to your database
You connect to your Amazon Redshift database directly or using one of our SQL integration partners: Chartio, Looker, Mode, Periscope and RJMetrics.
Query data using SQL
Your Redshift cluster has a clean, normalized schema, and our partners have prepared out-of-the-box reports to jumpstart your analysis.
Get your customer data into Redshift from web and mobile.
We set up your SQL database, and manage it for performance and maintenance. Just send analytics events using our simple API.
Integrate Segment
Integrate Segment into your website or mobile app. Track events on your website or mobile app using our simple API. If you're already a Segment customer, you'll just need to upgrade to our business plan to get started.
Enable Redshift
Segment + Redshift lets your data team move faster than ever
Cross-product analytics
Analyze how visitors interact across all of your websites and apps using SQL to reveal trends and patterns.
Import internal data
Join mobile and web data with internal product and user data to make deeper connections.
Recommendation engines
Personalize product suggestions with fewer signals based on what similar visitors enjoyed in the past.
Forecast trends
use a standardized set of past user behavior to predict lifetime value and customer preferences.
We've teamed up with some amazing companies to make SQL easy
Our SQL partners have built simple connectors to Segment Redshift. Each of them lets you visualize trends in user behavior and answer your most pressing business questions.
CHARTIO
MODE
looker
periscope
RJMETRICS
xplenty
JackDB
Data Replay
Want to try a new tool? Replay your historical data, so it's like you've been using that vendor all along. Eliminate vendor lock-in, drop your switching costs to zero, and take complete control of your data.Replay is only available on the business plan.
Platforms
You can send data to Segment from any device – from smartwatches to iBeacons, point-of-sale registers and more. We'll compile all of your customer data in one place and route it wherever you want.Rdio uses Segment across its web, iOS and Android apps.
Ecommerce Plugins
If you're using a major ecommerce platform, you can install Segment with zero code. Our one-click to install plugins give you instant access to all of the tools on our platform.
The easiest way to add analytics to your store
Instantly add analytics and marketing tools to your online store. It only takes the flick of a switch.
Turn on any tool with the flick of a switch using our dashboard
Understand how people use your store with analytics tools
Send more people to your store with marketing tools
New to Segment?
Segment is a single platform to manage and install all of your third-party analytics and marketing services with the flick of a switch.
One Click Install
Instant analytics for your store without writing any code.
We've built plugins for the hottest ecommerce platforms around. Our plugins take just one click to install, so you can get started using analytics and marketing tools with zero code.
We'll automatically track important user actions like viewing products, adding an item to the cart, and purchasing products. From start to finish, you can install the Segment plugin and get up and running with a new tool in five minutes.
Supercharge your online store
We've built an extensive list of tools that help ecommerce companies boost sales. Here are just a few things you can do with our integrations:
Automate emails to shoppers who have abandoned their carts
Easily fire ad conversion pixels without adding new code to your site
Figure out what version of your checkout page customers like best
Analyze how your advertising and email campaigns impact sales
Some of our most popular ecommerce tools include:
Google Analytics
KISSmetrics
MailChimp
AdRoll
facebook
woopra
Setup Guides
For other popular platforms, we'll give you a head start.
For platforms that don't support one-click install plugins for Segment, we have guides to get you set up in a jiffy. We help you to track all of the important customer events so you won't miss a thing.
Ecommerce API
If you've got a custom-built store, we've got you covered.
Do you use a different platform or did you build your ecommerce site from the ground up? No problemo. Top notch ecommerce companies like BONOBOS and BaubleBar use our Ecommerce API as a master integration to turn on all of their other tools.
Organizations
Organizations allow you to group together projects — like your website, iOS and Android apps — under one account. You can easily invite teammates to manage your integrations and consolidate all projects under one billing account.
Live Stream
feature shows you how people are using your app, and assures that your data is streaming consistently to Segment, then off to all your tools.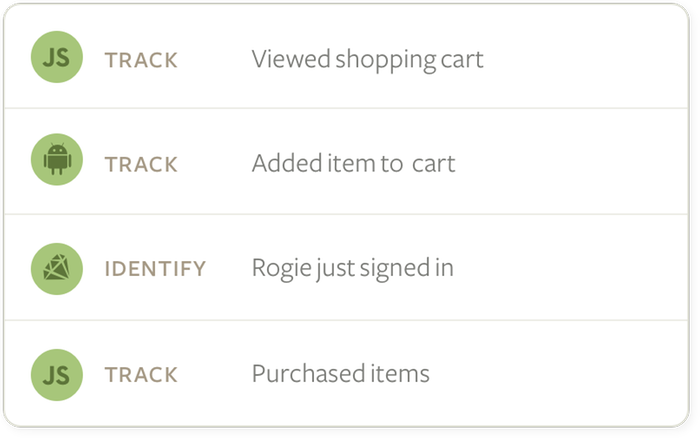 Use Your Data
Use your data however you want.
Export API
Query your data, or push it to your internal systems using our export API. Use your raw data to create personalized experiences and build recommendation engines.
Storage
Before we send off your data to third party tools, Segment stores a master copy. You have access to this data at all times to download for internal needs and to replay into new tools.
Collaborators
Invite collaborators to grant access to a particular project and its integrations, rather than all of the projects within an organization.
Unlimited Projects
Unlike a lot of tools, Segment gives you unlimited projects. Create as many as you need for different environments like production and development.
Support and Guidance
Our friendly support team helps our customers make the most of Segment. For business customers, we'll even audit your current tracking plan and suggest ways to improve it.
Open-Source Libraries
We've open-sourced many of our libraries to increase development speed and give you more control. Use your favorite programming language!
No Maintenance
Never worry about updating third-party tools again. We take care of maintaining their new versions, so you can enjoy automatic updates without lifting a finger.
Discover New Tools
Use Segment to discover and install new tools without needing to manually set them up each time. Try them out and see if you like them before commiting to a contract.
Web Hooks
Use our webhook integration to send all the data through to another service. You could send all the data through your own servers to store a copy.