The quickest way to access your data
Geckoboard is the quickest way to create beautiful dashboards and get an instant overview of your data. Connect your data, build your dashboard and share with your colleagues. No coding, no maintenance and no fuss - You'll be up and running in no time.
Pull data from 80+ services
Geckoboard integrates with the services you use every day, making it quick and simple to import your data.
Push your own data
Add proprietary data to your dashboard using our API or pull custom data stored in spreadsheets into your dashboard.
Visualisations that make sense
Our widgets transform your raw data into simple and intuitive visualisations. Communicate the meaning behind your numbers, spot trends, follow changes over time and more.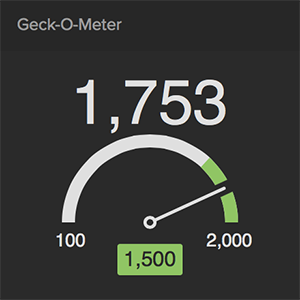 Useful dashboards, Fast
Add or edit dashboards based on your needs. Create your dashboards with an easy-to-use drag-and-drop interface - No design skills required.
Shareable Anywhere
Geckoboard is a Software-as-a-Service (Saas) business. That means everything lives in the cloud. Setup is instant and there's no need for any maintenance. Easy!
iPhone App
Download our iOS app to access all your data on the go.
Flexible pricing
We know that one size does not fit all, that's why we've created plans that scale with your business.
Dedicated Support
Whether it's a quick question or more tricky stuff, our friendly support team is here to help you make the most of Geckoboard.
Inspiring Stories
Reports, case studies and interviews with industry professionals - We've got everything you need in order to keep your data engine running.
Features
Share read-only versions of your dashboards
Display your dashboards under your own domain name
Keep an eye on multiple dashboards with sharing loops
Choose between light and dark theme for your dashboards
Restrict access to your dashboards based on IP addresses
Design your dashboard with custom CSS
Dashboards
The Dashboards you've been looking for.
Sales Dashboard
Help your sales team crush their targets by giving them an instant overview of their KPIs. See deals closed, compare performance of team members, performance by region and more.
Operations Dashboard
Make sure everything's running smoothly by monitoring CPU usage, uptime, memory across hosts, project completion rates, bugs and more.
Marketing Dashboard
Stay on top of all your marketing efforts from acquisition to conversion by keeping an eye on budgets, traffic, leads, campaign performances, ROIs and more.
Support Dashboard
Keep your customers smiling by keeping track of what's happening in your support team. See open tickets, reply time, satisfaction ratings, top tickets solvers and more.