Payroll Management
greythr online salary software covers all aspects of payroll management leading to less work and greater peace of mind. You can now ensure 100% accuracy, huge time savings and highly satisfied employees.
Excel import facility and mass data update keep manual data entry to a minimum and speeds up work.
Payroll Processing
The biggest strength of our payroll software is its flexibility and power to handle any type of salary structure. With extensive configuration settings we guarantee that your requirements will be perfectly addressed!
Each month, all you need to process employee salaries is to click a button. With that single click, greytHR accurately computes salary for all employees including Statutory Deductions (PF/PT/ESI/TDS), loan deductions, stop payments, revisions, loss of pay, pro-rata salary, Income Tax computation-- the list goes on. And all this in just a minute!
Salary Slips
You can customize the appearance and content of your salary slips. Generate the payslips and download them for printing. Or, email the pay-slips directly to employees as PDF attachments (with password protection). Even better, publish pay-slips online and employees can view / download the salary slips at their convenience.
Your business loses every time an employee gets an incorrect salary slip. The employee is unimpressed and may even get suspicious. Productivity takes a hit while the error takes time to fix. The problem repeats, month after month.
With greytHR you have a permanent solution. Get 100% accurate and professional looking pay-slips, instantly, and without any effort!
Statutory Compliance
All statutory deductions for PF, ESI, Professional tax, TDS, etc. are automatically handled by the payroll software as per law. Of course, you can further tune a variety of parameters to make this suit the specific needs of your company.
You can also generate all the required reports like PF ECR file, ESI Returns, PT reports of all states and TDS returns without having to do any additional work.
Income Tax (TDS) Management
Indian Income Tax rules are one of the most complex in the entire world. Accurate TDS calculations becomes a daunting task as a large number of clauses and sub clauses need to be considered. greytHR expertly masters all this complexity and you have very little work to do each month.
Not only is the TDS automatically deducted but various related reports are ready to use including Monthly Tax Statement, Form 16 and 12BA, eTDS Returns, Form 24Q, etc.
Digital Signatures for Form 16
The Form 16 documents can be digitally signed with your company's digital signature.
Loans / Arrears / Reimbursements
A complete salary software needs to handle all requirements including salary advances, loans and automatic EMI deductions, arrears, reimbursements, bonus and so on. greytHR does so with minimum fuss and maximum effectiveness.
Full and Final Settlement (F and F)
F and F settlements are simple and easy to do. The system handles all aspects of settlement like recovery of pending dues, notice pay, leave encashment, etc. to compute the final settlement amount. Final settlement payslips can be generated. Moreover, you can also do resettlement of an already settled employee for any additional payouts.
Excel Import / Mass Update
Eliminate time consuming data entry chores with dozens of Excel importers for virtually any type of employee information. For further time savings, we have mass update facility that updates salary information for multiple employees in one shot.
Payroll Reconciliation
Ensure accuracy with a variety of reconciliation tools. The Payroll Differences Report not only tells you which components have changed compared to last month but also the reason for the change. There are other useful reports like employee head count reconciliation and payroll transfer type reconciliation (cash/bank) that are very useful.
Payroll Agents
With Payroll Agents, we can deliver flexibility and extensibility to meet virtually any current and future need you may have. The agents have many configuration options that you can tweak for that perfect requirement fit.
Employee Administration
When you make changes to any information, you do it in one place and the changes are reflected everywhere. Moreover, the complete history of the employee in terms of transfers, promotions and other status changes is easily available.
Employee Database
Track all the employee information needed by HR for various purposes under many different categories. You can keep a record of a variety of details including bio-data, photo, organizational details, qualifications, family, passports, and much more.
Unlimited Employee Categories
You can create any number of organizational categories like Department, Location, Division, Function, Designation, Grade, Cost Center, etc for flexible classification and better reporting.
Organization Tree
Maintain the organization tree to capture the reporting hierarchy. It can also be useful in various workflows for reviews and approvals. A complete history of previous reporting assignments is available.
Employee Letters
Generate a wide variety of employee letters like Address Proof, Confirmation Letter, Salary Certificate, etc. in just a few clicks. You no longer need to search for Word docs, update data from Excel files to generate the letters. Letters can either be emailed or accessed through the Employee Self Service.
To help you setup letters, we have also included some commonly used letter templates. Just select them from the Template Gallery and start off. It is as simple as that!
Employee Directory
Employee Directory helps you in quickly browsing critical employee information and in easily locating employees. You can see the data for past and current employees with filters on various categories and employment status.
Mass Mailing
Send mails to all or some of your employees. Particularly useful if you need to communicate information relevant to a specific department or location. Easy to use options to select the employees makes communicating with your employees a breeze!
Automatic Employee Numbering
The automatic numbering system helps you maintain multiple employee series for different categories of employees without overlap. This great feature minimizes mistakes and save effort at the time of on-boarding employees.
Leave Management
It eliminates busy work involved in leave administration and employee follow ups, saving time and transaction costs.
Leave Policy
Let our greythr leave management software verify your company policies accurately, every time. Our extensive leave policy configurations ensure that the system works exactly as per your requirements.
Multiple Leave Schemes
You can create multiple leave schemes for different employee categories in terms of entitlement, quantum of leaves and other policies.
Leave Transactions
With the automatic leave granting on a monthly, quarterly or annual basis, yet another HR chore gets eliminated. All leave transactions of an employee are tracked and leave balances automatically updated. Eliminate your Leave Cards or Leave Excels completely.
Year End Processing
Year end need not mean extra work anymore. With easy to use tools, complete the year end processing for lapsing leaves, carry-forward, auto-encashment, etc. Have a tension free transition to the next year.
Employee Self Service (ESS)
Minimize HR work by empowering employees with self service options. Employees can see the Company Holidays, their Leave balances, transactions and team leave calendar. Workflows for applying leave, cancellation, compensatory off grant, leave encashment, etc. are available.
Attendance Management
While tracking employee attendance is critical to organizations, it need not mean wasting an inordinate amount of time in administration, manual collation, and reporting.
With our revolutionary cloud attendance management solutions, it is now possible to accurately track employee attendance with minimum hassle and effort.
Works With Any Hardware
Our web attendance software works seamlessly with any type of time tracking hardware like biometric devices, RFID, smart cards, etc.
If you already have the attendance hardware, we will integrate it with GreytHR and pull all the swipes from the application supplied with your hardware. Experience the huge difference in the way you manage attendance.
Online Attendance Marking
The online attendance marking feature allows employees to mark attendance using the browser without requiring any hardware based time tracking devices.
To enforce policy and prevent misuse, you can allow attendance to be marked only from a specific login IP address for each employee (for e.g. from within your office only).
Employee Self Service
Much of your administrative effort goes towards regularizing absence due to missed punches, office duty, working on a different shift, and so on.
But attendance regularization can happen only with employee inputs. When employees see their attendance and swipe information in real time they can immediately rectify issues leading to higher accuracy. Moreover, at the month end, there are no surprises and wasted time for the employees when time loss or loss of pay occurs.
Employee self service leads to less work for the HR department, faster feedback, greater transparency and better employee satisfaction.
HR and Payroll Integration
You experience HR bliss when attendance, leave (vacation), holiday calendars, and payroll all work seamlessly in an integrated fashion.
You get a smarter system that gives a more accurate and complete picture of employee attendance.
It also eliminates duplication of effort, inconsistencies, and confusion that is common with stand alone attendance software packages.
Business Intelligence
Get in-depth business intelligence with real time data tracking of employee attendance, leaves, holidays, shift rosters etc.
The raw data from swipes is collated to give consolidated reports on absenteeism, cumulative working hours, overtime, etc.
The monthly attendance records can be filtered by various categories like location, department, etc.
Business Rules
Configure the attendance software to exactly fit your company requirements with a variety of rules for absent marking, actual hours computation, shift rostering, overtime, and so on.
Report Management
You have 90+ reports available at the click of a button with accurate and up to date information.
The reports include statutory reports, monthly statements, reconciliation reports, and various other MIS reports that cater to the day to day requirements of your HR department.
Statutory Reports
All reports you need for 100% statutory compliance related to PF, ESI, TDS and Professional Tax.
Ad-hoc Reports
With the Statement Designer, you can design any number of reports with extensive options for grouping, field selection, short listing and more. Query Builder lets you generate powerful reports containing virtually any data item available in the database with filtering and sorting options.
Export Options
Facility to export all reports to PDF, Excel or Microsoft Word.
Employee Self Service Portal
Employees can now access their information online, on-demand without being on hold for hours with the HR/Admin, overall reducing Phone Tag time by 90%.
Online, On Demand Access
Employees can easily access information related to payouts, income tax, company policies etc. They can view their payslips, total earnings statements, PF and YTD statements. Details related to loans like installments paid, balance payable, etc. can also be viewed without having to wait for HR revert.
Workflows - Move to a paperless HR Department
Employees can initiate a variety of workflows related to leave, reimbursements, expense claims, etc. at their convenience. The online workflow process ensures company policies are automatically enforced at the application stage itself and reduces turnaround time. All stakeholders are connected via system generated emails which helps in reducing transaction time and cost.
Help Desk
With the Help Desk feature, employees can open a ticket for various issues or requirements that they may have. Depending on the issue category, the tickets are routed to the concerned department which could be HR, administration, IT, finance, etc. This is a boon to improve internal services standards and monitor SLAs.
Manager Self Service
Managers can login and view information of their team members any time they want without involving HR which is a big time saver for both the manager and the HR department.
Document Management
Centralize all documents related to company policies, employees tax, payroll data, forms, etc. in a central document repository.
Documents
Reap the benefits of cloud. Simplify storage of all important employee documents as qualification letters, work history, address proofs etc in a centralized repository. When required, greythr lets you get instant access to this data on demand without time lags.
Policies and Forms
Save paper. Publish policies and forms for employees to look up or download on the employee portal. Keep your employees updated on company policies as leave, travel, etc or allow them to download forms without HR involvement.
Expense Claims
Manage employee payouts other than payroll reimbursements easily by automating official expense claim and reimbursement process.
Configurable and easy to use
Configure multiple expense heads, define limits and rules for claiming expenses. Multiple expense forms for Team/individual can also be configured. Payment cycles, mode of disbursement (cash/bank transfer) and processing (individual/batch) can also be defined.
Advance Payments
Credit your employee's accounts in advance for tours either in domestic or international currency. The workflows allows to keep a track of the actual expenses and adjust against advances.
Online Workflow
The online workflow allows employees to apply for claims on the employee portal which can be approved by management. All stakeholders are connected via system/action triggered emails.
Events and Reminders
You can easily assign tasks, reminders for events and set automated greeting messages.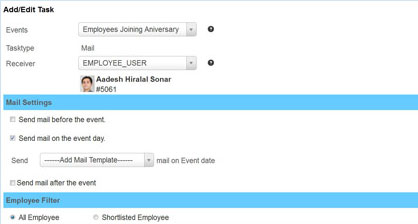 Stay alerted
This feature includes, reminder programs, event alerts, event reminder systems, task reminder etc. Now managers can easily be reminded of pending approvals, stakeholders can be reminded of document filings and employees be reminded to submit their details without having to spend time running behind individuals.
Easily configure events and set reminders based on various rules.
Ease communication process with automated alerts.
Schedule reminders for performance reviews, probation periods, training, birthday/anniversary and company events.
Report Management
You have 90+ reports available at the click of a button with accurate and up to date information.
The reports include statutory reports, monthly statements, reconciliation reports, and various other MIS reports that cater to the day to day requirements of your HR department.
Statutory Reports
All reports you need for 100% statutory compliance related to PF, ESI, TDS and Professional Tax.
Ad-hoc Reports
With the Statement Designer, you can design any number of reports with extensive options for grouping, field selection, short listing and more. Query Builder lets you generate powerful reports containing virtually any data item available in the database with filtering and sorting options.
Export Options
Facility to export all reports to PDF, Excel or Microsoft Word.
More features
Some more features of GreytHR
Payroll
Defining Components

Salary components can be entered manually, by formula, slab or value based lookups by grade, department etc.

Payslip configuration

Facility to configure format of payslip, add in personalized messages and upload payslips on excel. Facility to print payslips in order of your choice - by department, location etc.

Event handlers

Event handlers lets you add tasks and send automated notifications.

Hold salary

This feature lets you hold the processing of salary for specific or group of employees. Groups can be based on departments or those serving notice period.

One time payments and deductions

This feature lets you make provision for one time payment either as a part of salary or out of it. One time deductions can also be made.

Bonus configuration

You can configure the salary break up to include bonus calculations specific to your organization.
Statutory Deductions
Provident Fund

PF can be automatically calculated and deducted from salary . You can configure the rules, include or exclude employees for PF entitlements. Admin charges for both PF and EPF can be calculated. You can also access various reports as Monthly statements, combined challan report, etc.

ESI

greytHR handles ESI related deductions and associated rules comprehensively. ESI amount both for the employer and employee are automatically calculated and deducted. The deductions stop automatically when an employee moves out of the ESI limit.

Professional Tax

The PT slab gets automatically linked based on the location of the employee and deduction amounts calculated on specific state rules without manual intervention.
Loans
Configuration

Loan can be a part of salary. Multiple rules can be created related to principal amount, interest, balances etc. The system provides facility to automatically stop deductions from salary once the amount is recovered.

Interest Types

Create multiple interest types as flat interest, reducing balance, reducing balance EMI, etc.

Tracking of Interest Deducted

Loan principal and interest deducted are tracked and displayed separately. Facility to adjust the loan amount as a part of or outside of payroll.
Tracking and Reports
Dashboard

Created keeping business owners and CEO's in mind, the dashboard gives a one-look in-depth analysis in graphical format.

News Box

Be updated on latest statutory updates with the news box.

Notifications

Be updated on employee queries and issues related to payroll, leaves or taxation with the live alerts.

Salary Master

This feature is a part of the reports dashboard and provides a complete view of salary being paid out, the break up, department wise payouts, etc.

Attrition Reports

Get real time insights of the number of new employees and those leaving. This data can be filtered under different categories.

Accumulation Agent v2

The payroll engine has a new configuration component that gives you huge flexibility in accumulation and releasing of amounts (bonus, incentive, etc.) for different time periods.

Cash Payment Tracking

Details on payments made by cash can be captured. You can generate vouchers (receipts) and other related reports. Moreover, the cash payments can be done in multiple batches.
Role Based Security
Roles

You can have fine-grained access control to various features. You can define the access rights for each role. You can create unlimited roles like employee, team lead, supervisor, manager or administrators.

Users

greytHR is used by employees, managers, and administrative users. Apart from employees, you can create users (who need not be employees) and grant them different access rights as per their roles. Note: Facility to create users is available only for enterprise plans.

Password Policy

Good security is highly critical for Internet facing applications. As the system is used by multiple users, strong password policy is followed.
Utilities
Payroll Transfer Reconciliation Report

This lets you tie up all the payout made by the company in one report. Bank transfer, Cheque payments, DD payments, etc. are all summed up along with the employee head count for each type of transfer.This report will also inform you on employees whose Payment Types are not updated, so that you can update the data and ensure that payments are made.

Excel Data Import

greytHR provides you extensive data import facilities. Each and every data item within the application can be updated using an Excel file. No need to enter data manually.

Excel and PDF Data Export

Easily export data in excel or PDF formats. You can also generate professional looking MIS or Statutory reports in BIRT earning brownie point in your presentations. Built-in email facility has been provided in employee required reports. This enables you to send information, direct to employees without wasting time and paper.

Reconciliation Tools

The reconciliation tools helps you in finding the differences between the previous and current payroll, find variations of amounts by Departments and check how the payout is happening across Payment types.

Payroll Differences Statement

Compare previous and current months salary with Payroll Differences Statement. This tool lets you analyze the differences in payments for individual employee or all. The reports can also be downloaded in Excel or PDF.

Employee Count Reconciliation Tool

Fully account for employee additions, resignations and employees for whom processing has been suspended. A graphical chart neatly summarizes the information while a detailed report gives you the breakup. A major time saver.
Self Service
Bulletin Board

Use the bulletin board to communicate to your employees about company policies, latest developments.

Online Tax Filing

This feature enables employees to upload their form 16's, and file returns online.

Leave Dashboard

With the leave dashboard, managers can see the number of employees on leave and the team leave details.

New Leave Grant Logic

The system enables Managers in granting of leaves on on special occasions for specific employees. Such leave grants can be based on joining date, birthday and other significant dates.