Dashboards
Dashboards are the perfect way to monitor your business. Combine all the data you need into personalized real-time dashboards. Our dashboards are highly interactive - filter, drill to detail, and analyze right in a browser. With Yellowfin, you can go from data to dashboards in just hours; not weeks or months.
Align action with strategy
Yellowfin's personalized and interactive dashboards improve business performance at all levels of your organization. Track your corporate KPIs with rich, graphical presentations using maps, graphs and tables. Easily assign goals and collaborate on the metrics that matter to you.
Deeper insight just a click away
Sometimes you have to get down into the detail to understand what's driving those high level numbers. With Yellowfin, you can Drill Down hierarchies, Drill Through to detailed transaction level reports, or use Drill Anywhere to simply explore your data. All this in just a few clicks.
Interactive filtering
An intuitive Filter Panel makes it easy to see the data you need. Filter any business dimension or metric to change your view of, and better understand, your data. Simple check-boxes, sliders, and radio buttons make filtering easy, interactive and visually appealing.
Your dashboards, your way
Tailor your dashboard to your needs! Dashboard tools have long been inflexible when it comes to personalization. Not so with Yellowfin. In our eyes, every one of our users is unique. As such, we enable everyone with suitable permissions to have personalized dashboards. BI is more than just numbers - it's about what you need to be successful.
Access dashboards anywhere
Logging into a BI tool to get the information you need doesn't always make sense. With Yellowfin, you can simply copy a dashboard link and embed it into any Web page, wiki or company intranet. Imagine a fully interactive dashboard where you need it - no having to stop what you're doing to log into a BI tool.
Data Discovery
Data discovery requires more than just basic filtering - you need to be able to explore your data. Yellowfin lets you analyze your data in ways you didn't think possible. Drill Down - Drill Through or Drill Anywhere - even across multiple data sources. We don't put barriers between you and your data.
Quick and easy query & analysis
You want insightful reports, but can't wait weeks to have them created. With Yellowfin's super intuitive interface, if you have a business question, you don't have to wait to get the answer. Create interactive reports in minutes.
Flexible formatting
When developing a set of reports or dashboards, you need the flexibility to present your data in a way that relates to you and your organization. Formatting and conditional formats help you draw attention to what's important.
Mobile Authoring – not just the desktop
You won't be tied to your desktop. With Yellowfin you can use any browser on any device to query your data anytime and publish new reports to your audience. So grab your tablet and start analyzing your data today.
Blend Data from disparate data sources
If you have data in two or more systems, and want to join that data in a single report, you won't need IT to build a data warehouse before you can start to query them. Yellowfin's federated queries let you join data sources on the fly.
Advanced Calculations & Functions
Want to go that little bit further in analyzing your data? With Yellowfin you can. Create advanced statistical functions such as regressions and forecasts with a click of a button. Create new simple or complex calculations on the fly to get the most from your data.
Data Visualization
Data visualization is not only a great way to present your data, but a powerful way to explore it as well. Yellowfin's data visualization lets you spot outliers and trends with ease. With over 40 chart types - from sophisticated trellis charts, to popular line and metre charts - the right visualization is just a click away.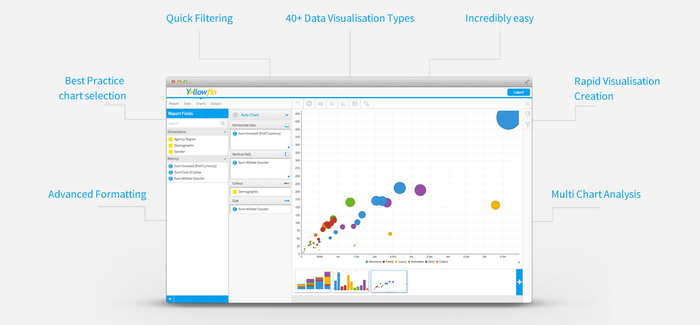 Create great visualizations
Instantly graph your data to identify trends and patterns. Yellowfin lets you select and change visualizations effortlessly. From sophisticated heat maps, to popular line charts or combination graphs, the right visualization is just a click away.
Interact with your charts
Increasing end-user enjoyment and productivity is our goal when developing interactive features. Provide context to your visualizations through Drill-Downs, Time-Sliders, Tooltips and Series Selection - take productivity and user experience to a whole new level.
Visualization Best Practices built in
Having a tough time working out which chart to use to best display your data? Worry no more, Yellowfin's auto chart feature selects the best chart for the job every time – and hey if you want to choose a specific chart you can
Quickly uncover problem areas
A Heat Map is superb for identifying patterns of performance. Attention is drawn instantly to color-coded results, and it's easy to understand area size and location. Rendering even very complex business analyses in easy-to-understand visualizations means more people can use them.
All the charts you'll ever need
To understand a business you need to look at it from different perspectives. It's great to be able to choose from a wide range of visualizations to find the one that makes the most sense. Yellowfin provides a comprehensive set of charting options designed to deliver highly interactive visualization of business data.
Spot outliers immediately
Use trellis chart visualizations to compare many dimensions, such as customer segments, side-by-side on one page. Making it easy and fast to compare performance in seconds, even from very large data and complex sets.
Storyboard
Using Yellowfin's unique Storyboard you can communicate your insights more effectively by creating data rich presentations. Combine interactive reports with descriptive text to build a compelling story and then share this story with others. There is no better way to support your natural decision-making processes.
Beautiful Themes for Stunning Presentations
Creating Storyboards is fast and easy. Using beautiful themes, Yellowfin lets you focus on telling your story instead of worrying about layout, design and formatting.
Create Engaging presentations
Yellowfin lets you combine rich interactive media from YouTube, Vimeo, images, and text with intuitive navigation to create persuasive and engaging presentations for your audience.
Take your storyboards with you
Yellowfin's storyboard functionality was specifically designed for mobile delivery. Take your storyboards with you and deliver powerful presentations anywhere, anytime or simply share them with your audience.
Manage Versions and Access
Manage regular reporting packs with storyboards version and access control. With versioning you can simply copy and update your presentation with new commentary and slides whilst maintaining past versions for reference.
Bookmark & Comment
See and issue or want to flag a page for further discussion. Storyboard let you comment and book mark content to make your presentations interactive and collaborative.
Mobile BI
You will love Yellowfin's mobile app. It combines outstanding collaborative features with great usability - simply swipe to browse dashboards, filter with a tap of a finger, or pinch and zoom. Our unique approach means that as soon as you publish a report, it's enabled on your favourite mobile device immediately.
Your data security assured
Our multi-tiered security model gives you the confidence necessary to implement widespread Mobile BI reporting and analytics. Yellowfin's mobile applications reuse Yellowfin's security infrastructure, so your data security is assured.
Be up and running quickly
Yellowfin Mobile is lighting fast to deploy - there's simply no need for re-work. All reports or dashboards created via the browser are immediately and securely available on your mobile device. We get data into the hands of those who need it quickly, saving you time and money.
Your business at your fingertips
Yellowfin is visual and quick. Refresh and analyze all your key performance indicators — wherever you are, whenever you need it. Flick through financial charts and graphs. Interact with, filter, sort and analyze your data — all with the touch of your fingers. You'll never look at your business the same way again.
A Beautiful User Experience
We believe that your Mobile BI app should be as fun and easy to use as browsing your favorite online magazine, or sharing ideas with friends across your social network. Yellowfin mobile is just that - it's a fantastic user experience.
Create once, access from any device
Better access to information means better decisions. With Yellowfin, once you publish a report or dashboard it's immediately available across multiple devices, in exactly the same format that you created it in. This makes your BI content visually consistent, no matter where you access it from.
Online or off
It might not feel like it, but there are times when you're not connected. Offline mode lets you enjoy a productive flight with uninterrupted access to your data.
Share ideas and collaborate
Discuss, share, collaborate or present your ideas in a meeting right from your tablet. Yellowfin's mobile apps focus on the needs of decision-makers. Yellowfin helps you share insight and collaborate with your peers.
Collaborative BI
Imagine what your people could do when they collaborate with your data. Providing visibility is one thing – but engaging in conversation, acting on data and sharing knowledge is what really makes the difference. Yellowfin helps you to do this and more. Yellowfin is the leader in collaborative BI.
Annotate and explain your data
Can't remember why that sales chart dipped last month? Well, Yellowfin's annotations solve that problem. Add comments to a report to help identify the events that gave rise to a particular trend in the data.
Be prompted into action
Knowing what's changed, and what needs your attention can help you to prioritise your day. With Yellowfin's inbox, you can see all your alerts, updated discussions and shared analysis at a glance. Keep on top of what's important.
Engage in conversation
Report commenting allows you and your colleagues to easily engage in conversation about key company metrics. Simply follow a report, and its associated commentary, to attain better insight into what's driving your company's performance.
Discuss the big issues
Yellowfin's unique timeline and discussion topics give you the ultimate power to share information. Analyze data with co-workers, embed reports, create polls and exchange ideas in threaded discussions. Discuss the big issues in full view of the information you need with the ease of use and flexibility that makes Yellowfin a truly remarkable platform.
Increase trust in your data
Trust in your published reports is vital. Yellowfin's report approval workflow allows you to manage the creation of reports using the same processes you've used to make decisions for years. For example, a VP of sales can view all reports created by any sales person before they are published to the rest of the company. This in conjunction with watermarks for exported reports ensures a high level of trust in your data.
Mapping
Yellowfin's award winning Location Intelligence makes it easy for you to put dynamic maps onto any report or dashboard. Merging your spatial data with your traditional Business Intelligence data will put your business on the map.
Get the full picture
More than 70% of your data has a location component. Traditional BI tools typically just offer tables, grids and charts - no maps. This only tells part of the story. With Yellowifn's map visualizations, you can quickly relate BI data to locations that are meaningful to your business and detect geographic trends, such as customer clusters or outliers.
The choice of map is yours
With Yellowfin, you can effortlessly merge your spatial and regular data in a wide variety of mapping format - from basic Google maps, to GIS data sets and Web Map Services (WMS). Yellowfin lets you rapidly integrate or create mash-ups using your existing GIS tools – such as ESRI or MapInfo – via WMS.
Discover your next opportunities
Geographic visualizations are complete. Mapping your data doesn't just allow you to see where you are - it allows you to see where you aren't! Gain instant insight into the potential markets that you may be missing out on. Discover where your next big opportunity is with Yellowfin.
Multi-layered analysis
The ability to overlay demographic or statistical data - such as per capita income - onto your maps provides you with an additional level of analysis and understanding. However, layering is difficult using traditional database and BI techniques. Yellowfin makes creating multilayered maps – and that 'a ha' moment – easy.
Combine place and time for deeper insight
Set your maps in motion to see changes over time. Yellowfin's map animation allows you to 'replay' a data set to understand how trends and hot spots are moving geographically.
Complete Platform
Yellowfin is different. Unlike most BI products, we deliver all the BI functionality you need via a single-integrated platform. This means the Business users have a great user experience whilst providing IT the governance they need to ensure trust in the platform and data security.
Administration Console
Allow administrators to manage / view / search system-wide configuration (data sources, views, users, etc) directly from a highly intuitive administration console to manage your entire Yellowfin deployment.
Query faster with In-memory analysis
Speed is important - you can't wait minutes every time you run a query. Conduct speed-of-thought analysis with Yellowfin's In-Memory database and answer your critical business questions fast.
Integrate quickly and easily
A full suite of APIs gives you complete control to plug Yellowfin into your enterprise applications. Integrate Yellowfin into your intranet, or even your customer facing applications - it's so easy to do.
Work Globally
Our global settings and regional localizations make Yellowfin the perfect solution regardless of your location. And for those of you who have offices in different corners of the world, we currently support nine languages, which combined with dynamic content translation means your people can see their dashboards and reports in their native tongue.
Behind the scenes
Yellowfin is completely browser-based and platform independent. How so? Well, it has been developed in Java and ships with Tomcat as its web server (of course you can choose your own industry leading web server). There are no plugins (Applets or Flash Components) delivered to the browser - just HTML5 and all that good stuff.
Connect to many data sources
You probably have data stored in many different systems and databases. With Yellowfin, you can query many different databases, from OLAP cubes, to CSV files - even combine multiple data sources to create a single report or dashboard without the pain of having to build a data warehouse.
Meta Data layer
The Yellowfin meta-data layer allows an administrator to map physical data into a simplified business view. You can define the key properties of the data and also create custom calculations such as ratios and averages. Your users interact with the meta-data layer, eliminating the need to understand the complexity of the underlying data or database. They view data in simple business terms.
Rock Solid Security
We're not all about speed and ease-of-use. Yellowfin also ensures that your data security is front and centre. That's why we provide you with a role, group and data level security model that you can configure as you wish. Or, better still, use LDAP or active directory to reuse the security frameworks you already have in place in your business. Deliver the right data to the right people - no exceptions.
Scale with ease
You need a BI platform that will scale both in terms of cost and technology. Yellowfin is based on a 64 Bit enterprise Java architecture, allowing you to start small, and massively scale as your needs grow - without the spectre of an exorbitant cost model hanging over your head.
Governance and Oversight
Every event in Yellowfin is tracked, so you know what reports are being used, how often, and by whom. Better administer and streamline your Yellowfin deployment with out-of-the-box audit reports. Enjoy better insight into usage patterns and preferred reporting content.
Schedule alerts
Emailing reports out to people is a great way to get data into the hands of those who need it. But, too many reports in your inbox, and they start to get ignored. Make every scheduled report count with exception reporting and alerts.