CommandCenter
Zoho CommandCenter is the ultimate solution to provide your customers with highly personalized brand experiences. Know where each customer is in their journey and ensure every interaction is meaningful to them. Lead customers on personalized journeys from their first interaction with your brand, up to the point of purchase, and beyond. Create complex flows across modules and integrate third-party app actions when needed. Monitor metrics about each journey. Identify any unseen bottlenecks or delays that may be hindering your customers in their journeys.
Customer Segmentation
Segment your prospects/customers to drive engagement and growth with Zoho CRM. Segment your customers based on their purchase patterns using the RFM model (recency, frequency, monetary value). Utilize this information to build targeted marketing campaigns that result in higher conversions. Identify unique upselling and cross-selling opportunities while improving customer engagement.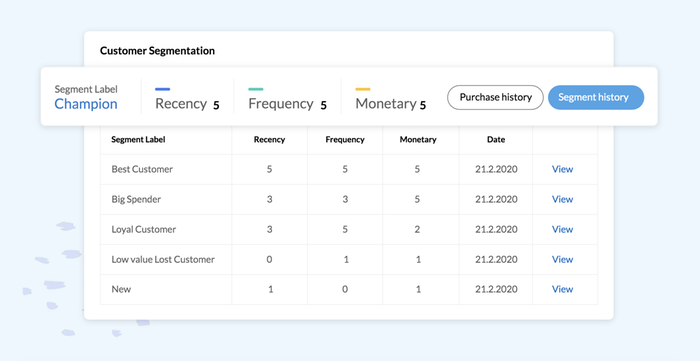 Prediction Builder
Data-based predictions for your leads and deals are great. But what about other modules? We've got you covered. Harness the power of predictive AI with Prediction Builder—a tool for building custom Zia predictions from scratch for any module in Zoho CRM. Predict the value of any field in any module, not just conversions Create an effective sales framework based on possibilities Configure how predictions work anytime
Marketing Attribution
Marketing attribution helps you tie your sales and marketing data together, giving you one powerful source to track all the stages of your conversion process. Understand the performance of each campaign, the effect it has on your pipeline, and focus on the strategies that are providing you with the greatest ROI. Understand the impact of different channels on the pipeline Accurate attribution of revenue towards the right campaigns Identify and focus on campaigns that yield better ROI
Quadrant Analysis
Effortlessly compare and correlate your different metrics, like the number of deals closed vs the revenue of each deal, and identify your best sales reps with quadrant analysis. Compare the sales of different products with the costs they incur to identify which ones bring you the most profit. You can compare and connect different variables in your sales data to identify which areas of your business are doing great and which ones need more focus. Calculate your sales team's performance Identify your best performing territories Identify your best performing marketing campaigns Analyze and prioritize leads
Webform analytics
Zoho CRM offers both customizable and pre-built web forms that turn your digital marketing campaigns into lead generation machines. Analyze webforms with statistics based on total leads generated, lead source, form abandonment rates, and more. Generate visual charts to get a quick picture on the performance of all your webforms. Conduct sophisticated webform A/B tests, with control over parameters such as traffic and test duration.
Wizards
Wizards let your sales team capture information from prospects and customers through a streamlined sequence of forms. Consolidate customizations like layouts, layout rules, and validation rules within a single wizard to eliminate silos. Help your sales team become more productive and capture accurate customer data with Wizards. Simplify complex record creation efforts with data collection wizards. Build a sequence of small contextual data entry forms to help sales reps capture information efficiently. Set up automated actions between stages or upon submission.
Multiple pipelines
Great sales management is all about prioritizing, tracking, and monitoring the deals in your pipeline. Zoho CRM deal management software gives you everything you need to manage deals across territories and sales structures. Manage sales processes unique to various product lines, geographies, or other parameters. Customize each stage of your pipeline to suit your organization's requirements. Get detailed reports to help you analyze the performance of each sales pipeline.