Preparation
Preparation for a meeting is one of the most important factors for success. SEM.MINUTES helps you to prepare the agenda and to distribute it to all participants at the push of a button. For Microsoft Outlook or Lotus Notes users, the meeting invitation is added directly to the calendar, as the standardized ICS format is used. The agenda can not only be viewed before a scheduled meeting, but every participant can also add their own ideas, questions and discussion items or comment on existing agenda items.
Implementation
Scheduled or spontaneous meetings alike: with sem.MINUTES, you can quickly and easily record all important meeting items from anywhere. Assign tasks to people and specify due dates. Mark important decisions as such, which are then also emphasized in color. For an optimal structure, you can group meeting items and define individual headings in sem.Minutes. With this functionality, you always have an overview, even in the case of complex subject areas with a multitude of sub-items.
Email messaging
Integrative communication is paramount with sem.MINUTES. With the email messaging function, scheduled meetings can be sent to all participants with just the push of a button. In addition to the actual appointment, an excerpt of the agenda is also sent in the invitation, giving participants an overview of the content and participants at once. Following a meeting, a summary of the results can be sent to a participant group once again in order to inform all participants of tasks, decisions or instructions.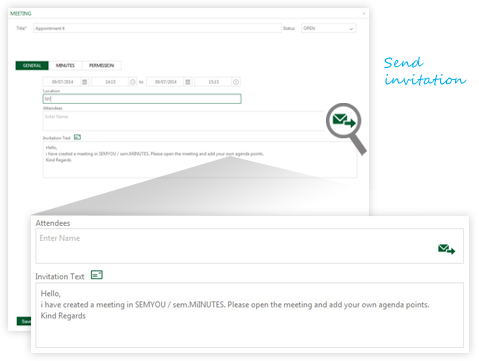 Tracking the Results Of a Meeting
Following a meeting, it is extremely important that the decisions and tasks are implemented accordingly. Follow-up represents an enormous effort, however, and defines a critical factor. sem.MINUTES supports you in retaining a permanent overview of decisions, tasks, comments and meeting results, with little effort. All meetings and the related deadlines, tasks and results are clearly displayed in a central view. Using the search function, it is possible to search through all meeting minutes and to quickly display the desired result. Effectiveness is guaranteed by this simple kind of quality control.
Appointment Management
Appointments can be easily created in every view in sem.MINUTES. Title,Location,description,time zone and participants can be defined when creating an appointment.If people from the cloud office are invited to an appointment,they recieve a message containing all the appointments details. The integrated request management allows for meeting request to be answered and managed. The status of meetings,via acceptances and declination from participants,can be shown or hidden per meeting request.
Security
semYOU use the highest standards of security.
Cross Browser Support
All semYOU APPS look consistently and work flawlessly across all major browsers. Internet Explorer (including IE 7), Firefox, Safari, Opera and Chrome.
Multi Language Support
semYOU supports multi-language in each application.