Assign Projects
Projects are the high-level stage of tasks in sem.TASK. All tasks are project-based and must be assigned to a project. All projects are displayed separated from each other by color in the side navigation menu, allowing for quick switching between projects. Particularly in the case of multiple tasks and projects, this form of broad categorization represents an enormous advantage because the searching, filtering and sorting of tasks is so precise.
Manage Tasks
Manage your tasks efficiently, centrally and securely! Easy and intuitive operation is the focus in sem.TASK. The complete task management of multiple projects is carried out in just one central view. Switch between projects, search for tasks, filter results or update your tasks to the latest status.
Search and Find
The search functionality in sem.TASK is an essential factor, as all tasks can be searched through by a full-text search. Simple to complex search queries are possible in sem.TASK. In addition to the title, the description and the specified tags are also completely searched, guaranteeing as high a probability of success as possible.
Interactive Filtering
Interactive filtering is an essential component of sem.TASK. All tasks are automatically analyzed in the background and corresponding filtering is actively generated. These filters can be used to filter by status, editor, date, tags, etc., for example. In addition to the filter criteria, the number of entries can also be calculated and assigned to the respective filter, such as status - open (23) or priority - high (5).
Export and Print
All tasks in sem.TASK can be easily exported or printed out via the action menu. It makes no difference here whether this is a search query or a filtered display. "Export" generates a standardized CSV file, which can be easily downloaded via the browser's download function. The print functionality is browser-based and displays all tasks in a new browser window, which is then available for printing.
Detail View
The task details can be shown or hidden via a menu as desired. Information on start date, end date, priority, status, progress, tags or description are thereby visible in the central view for every task entry. In addition to the display, changes can also be made directly in this area, such as status changes, progress or description additions.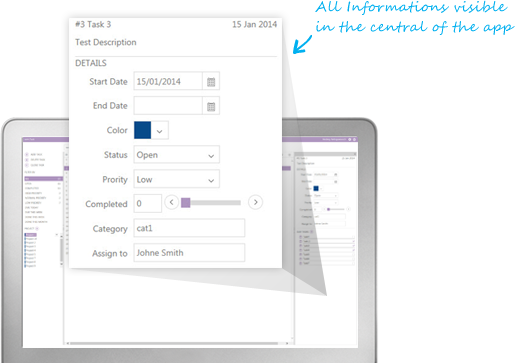 Security
semYOU use the highest standards of security.
Secure transfer protocoll 256 Bit Password encryption
Security Password Required
High Security Data Center (Germany, Switzerland, USA)
Daily Backup of your data
Cross Browser Support
All semYOU APPS look consistently and work flawlessly across all major browsers. Internet Explorer (including IE 7), Firefox, Safari, Opera and Chrome.
Multi Language Support
semYOU supports multi-language in each application.