Personalization
The first step in building a good relationship with your customers is to understand their needs. Of course.
Marketing is about building relationships.
When the only interface between you and the customer is their finger and a screen, how do you get meaningful insights and actionable data that translate into relevant customer experiences? With Monetate. We make it easy to create, deliver, and analyze personalized experiences across web, email, and mobile apps.
Sounds complex. Is it really easy?
Yes. Monetate does all the behind-the-scenes heavy lifting so you can focus on what you do best. We make it easy to design data-driven experiences that earn engagement. This goes way beyond product recommendations or A/B testing: It's about complete, multichannel experiences designed around real-time insight.
Personalize across channels.
With Monetate for Personalization, you can create tailored customer experiences across web, email, and mobile apps.
Personalize the entire shopping experience. Customize navigation assets, banners, badges, heroes, and more.
With Monetate for Personalization, you can create, manage, and analyze tailored customer experiences in one easy-to-use solution.
Using the data you already have.
No matter how much customer data you currently have, you can begin delivering personalized experiences with Monetate-powered behavioral and contextual insights now.
But that's just the beginning. With Monetate, you can bring together first-party data from sources like your CRM and POS, and combine them with real-time behavioral and contextual observations.
The result: Innovative opportunities to deliver truly relevant and personalized customer experiences powered by our import wizard or automatic updates. When you turn your data into actions with Monetate, you can create campaigns and messages that target dynamic customer attributes such as customer spend or members of your loyalty program.
You have the data. Now it's time to do something with them.
And the team you have now.
Personalization used to mean spending months on coding, consultants, and integrations. Not anymore.
With Monetate for Personalization, you can get up and running in days, not months. With Monetate, you can:
Work with the team you have
Utilize current creative assets
Leverage your existing technologies
All without ongoing involvement from outside consultants or the IT department.
One more thing: How can I tell if I'm getting results?
Actionable customer insights are only valuable if you can use them to help you achieve your goals. Measure every experience against custom KPIs and create clear and simple reports help prove the ROI of your efforts. That means you can spend more time focusing on results, and less time trying to fit campaigns to cookie-cutter KPIs.
And Monetate works with third-party software, so you can build a single report featuring the metrics that matter the most to your organization.
Optimization
Turn those hunches into knowledge. With Monetate for Optimization, you can use rich behavioral and contextual data to test, iterate, personalize, and improve the entire customer experience. It all begins with a deeper understanding of each individual customer.
Geek out.
Full-factorial ANOVA approach to help reduce variance, limit false positives, and measure interaction between variables. Great for analyzing mean-based metrics like average order value, time on site, and revenue/session
Built-in measures of statistical significance
Not sure where to start? See how your site's metrics (like bounce and cart abandonment rate) stack up against your competitors. We offer access to the industry's most comprehensive set of ecommerce benchmarks. And since we support more brands on the IR 500 than any other personalization platform, you know you can trust our numbers.
We're serious about testing. Monetate for Optimization helps you create, implement, and analyze powerful tests in a single, intuitive interface.
Product highlights:
Advanced A/B/n testing
Test multiple incremental changes at once with MVT
Measure. Report. Improve.
You shouldn't have to drill down to spot your winners. We make it easy to make your case.
Integrates with 3rd-party data so you can streamline your reports
Custom metrics help you focus on what matters to your business
Cool visualizations make your reports easy to comprehend
Prioritize efforts using built-in measures of statistical significance as your guide
From experimentation to personalization.
We believe a robust testing and optimization program is a key part of a successful ecommerce initiative.
We also believe testing is a critical part of an effective personalization strategy. With Monetate for Optimization you can identify key segments, test your approach, and iterate based on the data.
Merchandizing
Everybody has product recommendations. Old-school product recos ("People who bought this, bought these!") focus on the product, not the customer. That's not smart.
Personalize beyond the algorithm.
With Monetate for Merchandising, you can add your own business rules and tailor suggestions using past purchases and behaviors. You can even create dynamic filters that prioritize top sellers, new arrivals, and more.
Focus those eyeballs.
Badges are great at calling out unique product attributes, but most badging vendors are "on or off." With Monetate for Merchandising, you can display badges according to dynamic factors, including:
Target badges based on weather or location
Trigger badges by user affinities
Test badge attributes and go with the winner
Emphasize different USPs for returning shoppers
The gift of sight. Now for keyboards.
Customers can't purchase what they can't find. Deliver dynamic results tailored to the customer's search query, as they type.
Make products easy to discover with Visual Search that fully integrates with the search engine and product feed you already have.
3 powerful merchandising solutions in 1.
Dynamic product recommendations, product badges, and visual search. That's Monetate for Merchandising.
Mobile Apps
Research shows that as many as 75% of users will delete your app within just one month of downloading it. We think it's time to turn the challenge into an opportunity.
Your app launch was just the beginning.
With Monetate for Mobile Apps powered by Taplytics, you can update, test, or personalize any part of your iPhone or Android app. You don't even have to wait for the app store gatekeepers to bless your changes.
The testing solution you love. Now for the small screen.
With Monetate for Mobile Apps, you can use the same innovate-and-iterative approach you take with your website to your mobile app.
Test anything in your app, from checkout flow to button sizes, all without ever touching a line of code. Best of all, you can push the winning version of the test to all your users without waiting for the app store to approve your improvements.
Personalization comes to mobile.
And it's ready to do some pretty exciting things.
Create tailored segment-based experiences based on dynamic factors and real-time customer context. Use all the data you have (including CRM and POS) to deliver meaningful experiences that communicate the right message to the right person.
Personalize everywhere. Now.
According to research from Google, as many as 67% of online shoppers begin on one device and continue on another.
Multi-screen shopping is the norm—not the exception—and your customers expect you to deliver a consistent experience. With Monetate for Mobile Apps, you can integrate custom data like purchase history, preferred clothing size, and loyalty-program status to bring your personalized web and email experiences to your mobile apps.
Email
The emails you send should be as customer-centric as your website and mobile app. With Monetate for Email, you can create, manage, and analyze personalized multichannel campaigns in one easy-to-use solution.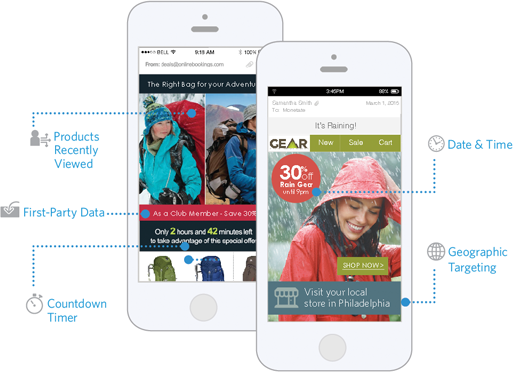 Email just got way smarter.
Open-time email personalization. Deliver relevant messages for the moment your customer opens the email (as opposed to when you send it).
Cross-channel consistency. Link the messages and promotions in your email to your web and mobile app platforms to reinforce your core message.
Cool widgets. Target emails based on current distance to nearby store, live inventory status, and more.
Real-time relevance. Use contextual data like region/weather.
And more targeted.
With Monetate for Email, you can bring in data from your online store and mobile app, so you can target things like items your customers have in their cart, the categories they browse, and more. Email retargeting is a powerful way to send emails that resonate and convert.
And a whole lot easier.
The Monetate platform is designed with an intuitive interface. Even non-technical marketers can do the work that was formerly exclusively in the purview of the IT department. Discover relevant customer segments, personalize based on variables you define, and track results.
Bring in data. Segment on the fly. Craft a dynamic message. Repeat.
So now you're probably thinking:
I'm going to want to measure all this stuff.
We make that easy, too. The most successful email marketers are the ones who measure and carefully analyze everything. Sort by target group, create dynamic content to better identify winners, and iterate on under-performing tests.
Examine opens, clicks, and conversion at the variable level. Compare results and iterate based on what you learn.
Setup A/B/n tests and push the winning version to the rest of your list—on the fly.
Deliver consistent experiences across web, email, and mobile apps. It's the next level of email integration.
Technology
Our solutions work in conjunction with your existing site provider and email service provider -essentially sitting on top on them- enhancing their functionality by synchronizing data, coordinating programs, and delivering relevant experiences to your customers, across channels and devices.
A Single Interface Design For Marketers
Monetate streamlines the effort required to not only identify targets or customer segments, but to create these targets from multiple data sources. By bringing together the data you observe, the data you collect, and the data you gather from third parties, Monetate's Interact builds a perpetual, high-resolution profile of every customer that never expires.
Monetate features:
Single interface designed by a single team with a single focus
Easy implementation using our JavaScript ExpressTag in your page header
Ability to change anything, anywhere, anytime—on your website or email
Unlimited tests, campaigns or emails
Deep Customer Intelligence
Monetate helps you know every customer in deeper, more profound ways. Monetate helps you understand past and present behaviors, customer circumstances—such as weather and demographics—and much more. The result is a high-resolution snapshot of your customers that never expires. Best of all, the longer Monetate runs, the smarter it gets, which means you deliver increasingly satisfying customer experiences.
Create and Manage Experiences with Ease
Define customer segments, create actions, and run unlimited experiences using an intuitive, sentence-based campaign interface that never requires code. Personalize every customer experience with nothing more than simple point-and-click selections. From simple changes to multi-page campaigns, or advanced features, it's as easy as answering Who?, What?, When?, and Why?
Core Features
Statistical significance for all KPIs
Support for custom metrics
A powerful, sentence-based report builder
Post-campaign segmentation
And it's all accomplished without adding any new conversion tags to your website.
ActionBuilder

Simplify campaign creation with a point-and-click visual editor that makes it easy for marketers to modify any part of their website, preview changes in real time, and immediately apply the experience to specific customer segments.

TargetBuilder

Allows you to easily define and select audience segments and mitigates the need for a centralized customer database. TargetBuilder can define segments based on three criteria – cookies, DOM elements, and Javascript variables.

EventBuilder

Enables marketers to track standard and custom engagement events for their marketing campaigns without writing throw-away code or making any physical page changes.

ContentBuilder

Leapfrog creative roadblocks by building targeted assets faster than ever before. Monetate ContentBuilder accelerates creative output by enabling you to build dynamic content, apply it to campaigns, and map it to the right audiences. With ContentBuilder, it's easy to create unlimited variations from just a single image.

Performance Analytics

Information isn't insight unless you understand its value. See the dollars and cents behind every campaign with the benefit of:

Performance visualizations
Raw data access
Analytics integration
Incremental and projected annual revenue
Standard Support
Self-integration documentation and APIs
Access to the Monetate Knowledge Base, screencasts, and self-learning modules
We also provide all of our self-service clients with a dedicated Customer Care Representative.
Monetate includes comprehensive support with our technology, at no additional cost. Our Standard Service is ideal for the self starter, who is comfortable with a self-integration of the tool (which is as simple as cut and paste) and wants to build, implement and maintain their own program.
With Standard Service, you'll receive:
support@monetate.com for Technical assistance and troubleshooting