Scheduling, Dispatching and Work Order Management
Schedule, dispatch, route, search, and sort jobs using the powerful multi-view Job Control Center.
Work History Tracking
Track unlimited work history of all jobs and service for each of your customers, job sites, and properties. Instantly drill down to the original work order or invoice directly from the history view - with a single mouse click. Data from work orders and invoices automatically flows to work history - with no redundant data entry. With Wintac, detailed work history for any customer, job site, property, and job is always at your fingertips.
Customer and Lead Management
Manage an unlimited number of customers with unlimited job sites, properties, and contacts per customer.
Contact and Prospect Management
Manage all contact information for an unlimited number of prospects. Track sales leads, log calls and sales progression with an unlimited storage capacity for free-form notes. Use the built-in Letter Writer with automatic mail-merge to email and print from any contact record. Use the Letter Writer to automatically generate targeted sales correspondence and prepare bulk mailings. Attach and view an unlimited number of pictures, documents, and spreadsheets to any contact record.
Accessibility
Send job data to and from email-enabled PDAs, smartphones, tablets, netbooks, and laptops for online access.
Estimates and Proposals
Easily and quickly prepare professional proposals, quotes, and estimates for your customers.
Task Building and Flat Rate Pricing
Eliminate redundant typing by building your own dynamic, reusable tasks, assemblies, and applications in Wintac. Use tasks to generate complete proposals, work orders, and invoices with a single mouse click! Prepare professional-quality flat rate books with multi-column pricing and custom headings and column titles.
Accounting and Payroll
Manage all employee data including job categories, time sheets, payroll data, and unlimited notes.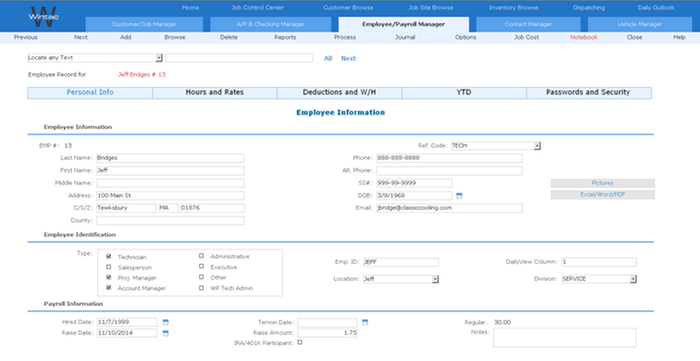 Employee and Payroll Management
Track earnings, withholdings, time disbursement, and multiple rate categories for all your employees. Calculate and print payroll checks with year-to-date voucher data. Print payroll journals, tax liability reports, 940 and 941 forms, W-2 and W-3 forms. Print certified payroll reports. (not available in Wintac Green)
Financial Reporting and Graphing
Prepare general ledger reports, income statements, balance sheets, trial balance, and cash flow forecasts. Generate comparative and departmentalized Profit and loss reports. View and print any report, as well as output to standard PDF format. Analyze sales, expenses, and profits graphically with pie charts and line/bar graphs.
Purchasing, Bill-paying, and Accounts Payable
Automatically generate vendor purchase orders based on minimum and optimal stock levels Automatically generate vendor purchase orders based on vehicle usage. (not available in Wintac Green) Automatically generate multiple vendor purchase orders for job fulfillment. Full-featured accounts payable tracking with 30-60-90 day invoice aging payment history. Schedule and make automatic payments on recurring bills.
Inventory
Manage and track an unlimited number of inventory and non-inventory items with instant retrieval.
Multi-location Inventory Management
Track on-hand stock levels in multiple warehouses and vehicles. (not available in Wintac Green) Track pricing from an unlimited number of vendors for each inventory item. For each inventory item, you can set three-column pricing and customer-specific prices. Assign and track serial numbers for any inventory items. (not available in Wintac Green) Assign custom markup and discount percentages for any item.
Fleet Management
Manage your entire fleet of vehicles.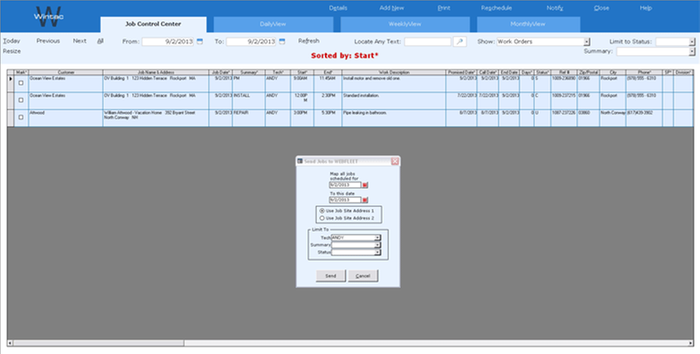 Integrations and Customization
Easily share data and communicate with Microsoft Word, Excel, and Outlook.
Microsoft Office Integration
Design and create your own Wintac work order, invoice, estimate, and purchase order forms in Word. Attach Word documents and Excel spreadsheets to virtually any data in Wintac.
QuickBooks Integration
Easily convert your QuickBooks data into Wintac with a couple clicks. Eliminate the need for double-entry by seamlessly sending Wintac invoices and receipts to QuickBooks.
Additional Integrations
TomTom Webfleet
Xcharge Integrated Payments
Training
Data Conversion
2015 Upgrade Features
The 2015 version of Wintac is our best yet: See its features below
New Time Card feature!
Now your employees can quickly and easily clock in and out from Wintac and the Web Portal for time tracking. Easily clock in and out to start and end the workday as well as clock in and out when taking a break. Wintac will track and calculate the work hours per employee which an Administrator can review, update, and even post to payroll! This is one of the year's most requested enhancements.
New Web Portal App!
Our new Wintac App takes going mobile to the next level. Our app works in conjunction with the Wintac Web Portal. You can perform almost all functions of the Wintac Web Portal right from the app. The Wintac App even has some offline capabilities so that your techs can update jobs when they have no internet connection. The Wintac App for Android devices is currently available for download and the iOS version will be available very shortly. The Wintac App is free to download but requires that you have the most recent version of the Wintac Web Portal.
New Web Portal layout!
The Web Portal has a brand new layout that is much more user friendly and functions better on smaller screens. Its intelligent new design will save your technicians and service managers even more time in the field.
Automatic update notifications!
This is one of our most requested enhancements. Now, when you log into Wintac, the software will check to see if there are updates available. If there is an update available, you will be able to click a link right from within Wintac and see all of the update details and download it immediately. This means that you will no longer have to contact us to request an update or see if one is available, Wintac will notify you automatically when one becomes available and you can make the decision of when you want to download and install the update. Requires internet connection.
Swipe credit cards
You can now swipe credit cards with XCharge and the Web Portal using a MagTek BulleT card reader. Now your techs can process credit cards from the field safer and securer than before! If you're not currently using XCharge
View Jobsite History
You can now view jobsite history in the Wintac Web Portal without having a job scheduled. When this admin setting is turned on, you will be able to drill down to history at a particular job site from the customer list. One of the Web Portals most requested enhancements!