Time Management
Mobile time tracking The timer function allows workers to easily and accurately record the time spent on the job. Start the timer with one click, select appropriate charge out rate for work being done. When the timer is stopped, time is automatically added to the team member's timesheet and the job, for fast and simple invoicing. See all timesheets and job changes in real-time. Adding charges on the go Adding charge records is so easy via NextMinutes iOS and Android apps, with organised categories for labour, materials and disbursements and a quick add mobile interface, charges are applied easily by your mobile service team.
Invoicing
Getting paid is important to any business, we've taken the headache out of keeping up to date with invoicing. You can create invoices on the go, the faster customers get your bill the faster they can pay. Your invoices are structured in a way that is easy for both the team to generate and for customers to understand. You can keep track of your invoices easily as they are organised alongside the job and client profiles. You can also access reports and a dashboard to see at a glance the status of your billing activity. Date entered line items: New charge records are organised in sections and are fully customisable. Charge records are captured with date, quantity, description and cost and are ready for invoicing. Adding sections is a great way to organise line items so both you and your customer understand the costs at a glance. Easy add feature: Optimised to rapidly enter sale line items via the "Add New" pop-up menu, all sale item records are accessible and at the ready to enter. We also separate these into four categories – labour, materials, disbursements and other. Customise what you present: Send detailed invoices, there's a whole lot of flexibility on what you can present in your invoicing, show as much or a little detail as you need. Choose to show information such as quantity, unit cost, discount or total cost for individual line items – it's entirely up to you. We've also made it easy to include custom content via the header or footer notes areas. This is great for providing a detailed narrative and you can merge existing job, task or client data. Invoice templates: These make billing of common or recurring work, very easy. Prebuilt templates allow you to create bundles of charges in template form for easy invoicing. The field service team can access these when adding actual charges to jobs, making billing on the go straightforward. Creating an invoice on site is really fast.
Customer Management
Customer Information & Search: quickly search through your customers, jobs, quotes, invoices easily. When you're running a busy business keeping track of business information can be chaotic without an organised system. NextMinute keeps all your information in order so you can get on with what you do best. Filter, Search & Locate: powerful filtering allows you to get your hands on exactly the information you need and quick. You can also customise your contact categories to fit your business and organise them the way you want. Customer Activity Log: your customers are so important to your business, so we've created a place to keep your customer history and information safe and secure. NextMinute organises past quotes, messaging, jobs and invoices, they are compiled, organised and available on any device. Data is also continuously backed up and stored in the cloud. Customer Import: getting started you can sync your customers contacts from your Accounting software or import your information into NextMinute through a CSV file. It's simple and straightforward.
Messaging Notifications
Use in-app Messaging to send the team an email or SMS with the high-level information of a job or task they have been assigned. Add a message to the customer while you're at it to keep them in the loop too. Keep customers informed of all activity and be prompted to send the team updates via in-app Messaging. SMS, Email and Internal Messaging allow you to keep your team up-to-the-minute and your customers in the picture with all job activity instantly. Messaging activity is integrated at job or task level for efficient work and communication audit trails. You have full transparency of communication, it's consolidated within NextMinute, not fragmented on each individual team member's mobile device.
Quoting Made Simple
Real-time job activity means your field service team can quote, order, record charges and create invoices on site. NextMinute quoting is fast, efficient and so user-friendly: • Optimised to rapidly enter sale line items, • Regular sale items are stored to reduce load speeds, • Quotes, Orders and Invoices can be created independently or associated to a task or job, • The Quote, Order, Invoice grid form is standard across outputs, • This grid form is dynamic enabling easy addition of line items and sections. • Formatting, editing and vast opportunity for customization are possible. • Supported by easy to complete forms, we expect customers to be quoting faster than ever before. Quote Acceptance Delivering quotes in good time, keeping track of quotes and their statuses, and customer engagement are important factors for winning new business. We make the quote management process easy. A customer can choose to accept or reject the quote, add a written response and this is automatically updated against the quote record in NextMinute. No more searching through files or emails to find out what was priced or said.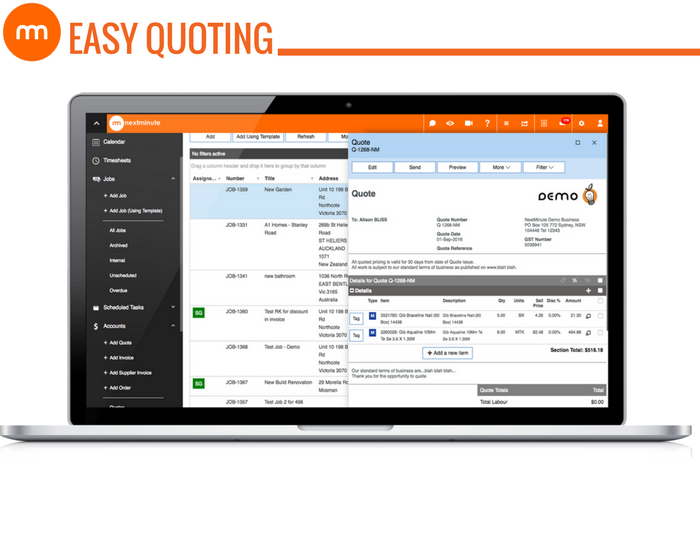 Scheduling
Job Scheduling Calendar Filters jobs and associated tasks across a flexible calendar view, so you can see the team's work timeline. Choose to see in days, weeks or month view. Adjust the settings and working hours to suit your business. Use filters and colour coding to organise your view. Drag & Drop Tasks Drag and drop functionality enabled to allow assignment of tasks to your team's work timeline. Flexible to manage the correlation of job/task relationship and show it visually. Responsive Scheduling Changes are made in real-time so workers know exactly what's up on every job. Because sometimes things don't always go to plan and urgent jobs and tasks do crop up. Automated Messaging Be prompted to send in-app Messages to your team or customers when changes are made to scheduled tasks and work activity. Schedule Work Tasks & Compare Separate tasks from jobs and then allocate these to your workers for effortless project control. Jobs have due dates, scheduled tasks allow control and planning of the working day. A task is anchored with a date and time so workers know where they're expected to be. Viewable in their scheduled task list or the Scheduler Calendar. You may also choose to use jobs for chargeable hours and tasks for non-billable activity and compare the work split. Recurring Work Activity Within each job you can have as many recurring tasks as you want. Created using the same recurrence patterns that you've come to know with other calendaring products. Any changes you make to the task or job are stored in a single job instance so nothing is lost. Schedule it once!
Dashboard Reporting
NextMinute provides you with a variety of reports to keep track of your business. These reports along with the Dashboard summaries give insight on key performance metrics and show you how your business is tracking in real-time on a daily basis. This helps create a clear picture of all your business activities and can uncover business opportunities.
Map Integration and Directions
View jobs on a map to get a snapshot of the geographical locations of your work, and schedule new jobs more efficiently based on where other jobs are located. The team have job details, specifically the address on hand via their mobile device. They see the job address and can access driving directions.
Add On - Xero or MYOB
We know that your focus is running your business, so we remove the need to double handle invoice information and enter it into other software programs. Once the job's complete and the invoice created, NextMinute offers an easy integration with online accounting software – Xero & MYOB. Just one click to sync your clients, products, services and invoices. No need to re-key a thing!
Job Management
Schedule, assign and notify your team about work in a just a few clicks. Keep track of every job and stay on top of the workload easily and keep tabs on your team in real-time. Create & Assign Jobs quickly Assign jobs to your team and provide all the details they need to have on-hand in an easy to use job profile. The summary of information allows your team to quickly see where they need to go and what they need to do. Easy to view lists A list in ticket view of jobs or tasks make it easy to see at a glance what you have on, the status and priority of jobs, and with one click you can drill down to see more detail – photos, files or user manuals, customers notes are all on hand. A list in grid view gives you a dynamic summary of activity - see the assigned team, status, charges, activity notes, and photos at a glance. Filter, colour code and sort the info to suit the way you work. Messaging Use in-app Messaging to send the team an email with the high-level information of the job or task they have been assigned. Add a message to the customer while you're at it to keep them in the loop too. Task Management Allows you to schedule appointments or bookings; to do's for you and your team. All of which can be added with specific date and time detail. Tasks can be billable or non-billable activities it's up to you. You can also associate tasks to Jobs providing more depth of activity for contracting or project type work. Import Jobs & get working fast Importing your job information aids a fast start up with NextMinute, you can be up and running with your current job activity and dispatching work to your team very quickly. Making the transition to an online system straightforward.
Billing Flexibility
We know that businesses operate in a range of ways, that's why we give you a whole lot of flexibility in your billing output. You can part or full invoice, choose to invoice sections or specific line items. You can markup using cost-plus or use a predefined margin. You can apply discount percentages for each line item. This flexible billing capability allows you to quote and invoice the way you want and accommodate your unique business needs.
Mobile Quoting
We've put a lot of thought into how customers want to operate in the field. We enable easy quoting from any device (via iOS and Android apps). Data load speeds are fast, adding charges are quick and sale items are organised. It really is possible to quote and invoice on the job with the NextMinute app, it's been carefully crafted to work well on all devices.
Organised Job Details
Creating jobs & tasks represents core functionality, automating and streamlining work activity online and replacing manual processes. All job information is organised and stored against the job profile. All messages, photos, notes, files, quotes, charges or invoices roll up to the job profile. Job and task templates are in single page format, making job and task creation easy, fast and accessible. Your entire job profile is at your fingertips, always organised and available in real-time on any device.
Record Accurate Timesheets
The timer function allows accurate recording of time spent on a job or task. Choose the appropriate charge out rate and see all timesheets in real-time. Workers can easily manage their weekly time records from the convenience of their mobile device. With labour charges being assigned directly to a job or task, job costing and invoicing is a whole lot easier.
PlaceMakers Supplier Integration
Access your PlaceMakers price book for accurate quotes, orders and invoices. Process online orders to your preferred PlaceMakers branch for pick-up or delivery. Access all PlaceMakers supplier invoices in-app, allocate these to jobs, mark-up and on charge or process with your end of month billing.
Invoice on the go
Get paid faster with the ability to invoice on the go, now in a few clicks you can create, review and approve invoices and send to customers as you complete the job. Using your mobile device to generate invoices is just one way NextMinute will help you reduce the burden of admin and paperwork.