Online Proposal Management Features
Business proposals are traditionally a pain to create and get pawned off from employee to employee until someone produces them. We have this crazy notion that creating quotes should be a fun process. With Quotegine's proposal management software you can build your own custom branded html proposals or use one of our unique templates. With our proposal management features you can build proposals, content, sections, and line items. Then save everything into a centrally managed library that you or your team can easily pull from later.
Save Time And Money Creating Proposals
Time is money. The entire Quotegine framework was developed around being fast and easy to use. If we can cut down proposal creation time in half, the savings can be mind-blowing. Think about what even a savings of two hours per week for a sales rep would mean over the course of the year!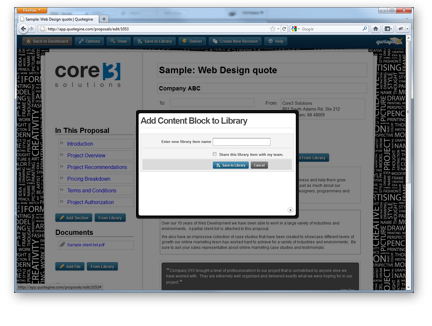 Green Impact
We know things need to get printed from time to time, which is why we have print friendly options. Consider this though… an office with just three sales reps, each producing twelve proposals a month (let's assume fifteen pages per proposal) and printing each proposal an average of five times, would save 2700 pieces of paper per month.
That's over $125 per month in paper, ink and printer maintenance costs you saved!
Impress Clients With The Design
Let's face it, proposals usually look bland and boring. Proposals with great layout and design get noticed. With the click of a button you can change your layouts in Quotegine and even put in your own backgrounds for custom branding.
Centralize Your Team's Interactions
Constant emailing back and forth and tracking down employees is a waste of time. And then what happens when you want to review all of those notes after a project starts? With Quotegine all of your team's discussions are centralized, making it easy to follow and look back on later.
Eliminate Errors
Your organization may have a standard template it uses to create proposals with. But what happens when you have an individual snippet, paragraph or page you want to be different? Maybe you even want something from a past proposal. Our libraries help you store re-usable information so you are never re-inventing the wheel if you don't want to. You can share your library items with the rest of your team so they can benefit from what you have created. We even have auto calculating pricing tables built into the proposals so your team never gets the final numbers wrong.
Quick Approvals From Clients
Forget signing and faxing paperwork back and forth. Our one-click approvals and e-signature options make it easy for clients to approve your proposals immediately.
Useful, Real Time Analytics
What if after you gave a client a proposal you knew when they picked it up to read it, which pages they looked at and how often they went back to it? Seems pretty valuable for your sales team, right? Quotegine provides all of that information in real-time after you deliver your proposal online.
Support When You Need It
Every paid account gets a dedicated Quotegine rep that is there to help you build and deliver the best possible proposals for your organization. You'll never be alone again struggling how to best put a proposal together. We also have an extensive online library with interactive videos and tips to help you along the way.