Live Bank Feeds
We save you the hassle of importing your transactions by connecting to over 10,000 institutions worldwide.
Save time
Easily keep your accounts up-to-date and in one place. We support checking, savings, credit cards, loan accounts, and more.
Auto-categorization
Most of your transactions will be categorized when they're imported, to give you a head start. These can be customized to suit.
Multiple accounts, same bank
Import accounts from one institution using different credentials. Manage your family accounts in one place.
Global support
With over 10,000 supported institutions in 36 countries, chances are you'll find your bank. All the major banks in the United States, New Zealand, Australia, Canada and the UK are supported.
Budget Calendar
Interact with your money in a natural manner. Schedule your upcoming bills and budgets in a calendar.
Simple to understand
Click to add and edit your incomes and expenses, drag and drop them to change their schedule.
Make forecasts in minutes
PocketSmith does the heavy lifting and calculations for you. Perform complex projections with ease.
Daily balances at a glance
See how much you're projected to have, every single day, in the calendar.
Spot problems ahead of time
Avoid future cashflow problems by seeing where you'll be in the future. Adjust your spending to suit.
Multi Currency
Track accounts, assets and liabilities from different countries. Automatic currency conversion based on daily rates.
Balances in native currency
See native balances for your foreign accounts, with conversions to the base currency of your choice.
Balances in base currency
Show converted balances for all your accounts, rather than native balances with a conversion tooltip.
Your net worth in one currency
Track assets and liabilities in their native currencies, and see your net worth in your base currency.
Extensive exchange rate support
Including non-fiat rates for Bitcoin (BTC), gold (XAU, troy ounces) and silver (XAG, troy ounces) and more.
Cash Flow Forecasts
Create cash projections in minutes. See your daily bank balances up to 30 years into the future.
No complex spreadsheets
If you know how to use a calendar, you can create spectacular forecasts with PocketSmith.
Visual feedback
The forecast graph shows you how much you'll have in the future based on your scheduled budgets.
Daily projected balances
See exactly how much you're projected to have, accurate to the day, up to 30 years in the future.
Automatic interest calculations
See the power of compounding interest on your balances simply by entering an interest value for your forecast.
Transactions
Categorize, label and annotate your spending, your way. Then use our amazing search engine to find transactions.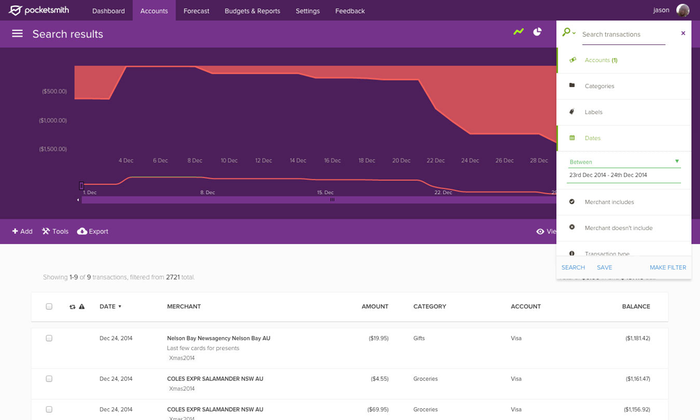 Multiple import options
Choose to import your transactions either by Live Feed, upload or manual entry. Manage cash accounts with ease.
Organizational tools aplenty
Categorize, label and annotate your transactions for future reference. Find duplicates and transfers with a single click.
Killer search engine
Find exactly what you're looking for. Our search lets you specify dates, word exclusions, amounts, accounts, labels and more.
Rules and filters
Just like email. Create rules that will automatically rename, categorize and label transactions when they arrive.
Net Worth
Keep track of what you own, and what you owe. Add property, mortgages, vehicles, loans and more.
What is your Net Worth today?
Measure your total financial performance across all accounts, assets and liabilities.
Track more than just cash
Keep tabs on property, investments and vehicles.
Link liabilities to assets
Link debts such as hire purchases, loans and mortgages to your assets.
See your Net Worth grow
Keep adjusting changes to the increasing values of your assets.