Pump Your Performers with Leaderboards
Motivate your sales and support teams with friendly competition and real-time results.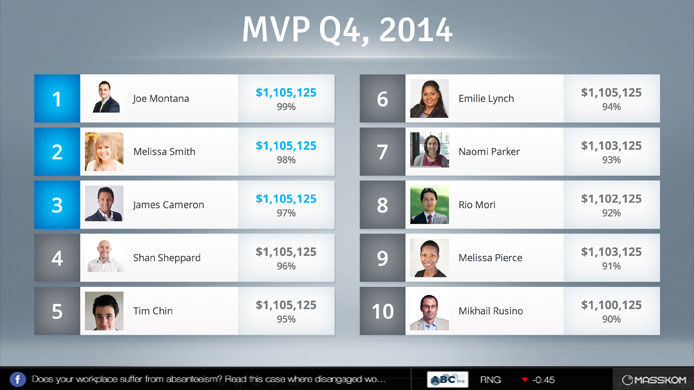 Mobilize Your Internal Communications
Keep your team engaged even when they're on the go.

Masskom Mobile Apps are available on iOS and Android.
Rock Revenues with Real-time Koms
Motivate your employees with leadership messages sent to all locations and devices.
Customize Your Communications with Zones
Zone defines the audience and controls Koms delivery across your company.

Team Zones follow the organizational structure within your company. Individual Zones are independent of the organizational hierarchy.
Integrate with Your Business Engine and Track Performance of Your Koms
System integrations to bridge your existing content with Masskom.
Engage Your Team with Templates
A library of templates keeps your team focused on winning and makes your internal communication elegant.
News Ticker
Customize your News Ticker to display what matters most for your organization and motivates your employees.