All-in-one web presence platform
Zeendo is a solution that offers everything you need to publish your responsive web project. Only one invoice for all your web presence services.
DIY website editor
Zeendo's editor is easy to use and very intuitive. This is why anyone, without programming or design knowledge, can create their own website without need to commission them externally. Even so, Zeendo makes available a series of resources that will help users in the creation of their website: tutorials, videos, help manuals, FAQs...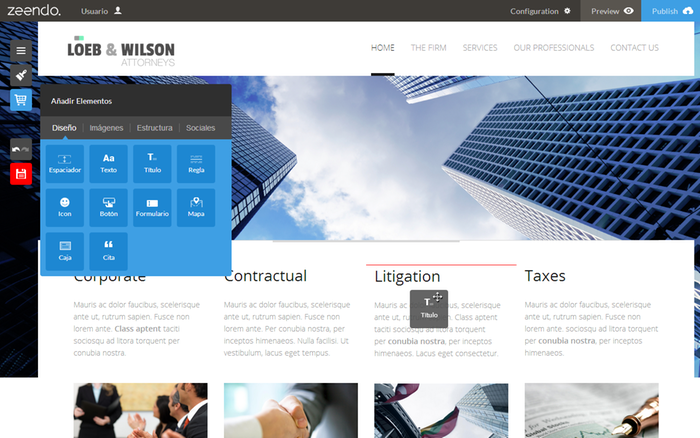 Ecommerce
Sell your products on the internet with Zeendo's online store. Edit your products categories and features, enter the price you want to ask for them, set up the payment method that you accept and start selling online.
Professional responsive templates
Choose from more than 50 different templates, classified by professional category. Personalize the template you choose with your logo, corporate colours and contents, and create the best website for your business. All our templates are mobile friendly with responsive designs.
Analytics
Measure visits to your website and improve your strategy to get found on the internet. Check the internal statistics and insert Google Analytics code to get even more data regarding your site's performance.
SEO Optimized
If you're optimized for all search engines, your bounce rate will go down and your rankings will go up. Edit the meta-tags of your site, optimize your URL and achieve the best natural positioning with all major search engines.
Social Media
Interact with your visitors linking your website to your social network profiles: Facebook, Twitter, G+, etc.
Hosting
Hosting for your website is included in the price. Choose the plan that better fits your needs: from 1 GB storage and 1 TB bandwidth with plan Basic to 10 GB storage and 10 TB bandwidth for plan E-commerce.
Many great widgets
Select the one you want and insert it on your website easily thanks to the drag & drop system: images, maps, forms and much more.
Lots of other features
To help create your customized responsive website and boost your online presence.