Lead Nurturing
The leads your company is generating through its sales and marketing efforts are not just numbers. They're individuals at varying stages of the decision-making process -- some are hot or cold, but most are somewhere in between.
What needs to happen to them is lead nurturing, sometimes called drip marketing.
Our email lead nurturing software is integrated right into our lead management program. So staying in contact with that 93% with the cold feet will become a natural, trouble-free part of your lead management routine.
Leadsberry Lead Nurturing Software Lets You...
• Identify high quality "hot" leads for immediate action.
• Track, manage, and analyze multiple lead nurturing campaigns.
• Revive dormant or dead leads.
• Upsell existing customers to new products or services.
• Save money by rescuing leads that would have been lost.
• Create email templates or upload your own.
• Schedule email delivery at intervals of your choosing.
• Send different emails to various personas within your target market.
Drip, Drip, Drip, Cha-ching!
Leadsberry's email drip campaigns are easy to create and customize to suit your outreach needs.
And we've made it simple to automate the steady drip, drip, drip of persuasion messages going to your prospects. So when they're finally ready to commit, your name is already ingrained in their minds. And that's when the "cha-ching" part happens.
Lead Management
Your sales team is generating new leads, each at a different stage of the conversion process. But does your company have lead management software capable of organizing, tracking and measuring your lead creation efforts?
Do you have a platform that's not only functional and powerful, but intuitive enough for your people to learn and start using quickly? In other words, software that won't bog them down with a complex interface that requires hours of training?
If you don't have that yet, it's a good thing you found us!
Leadsberry offers B2C / B2B lead management services that your sales and marketing teams will love using... and your whole company will profit from.
How Leadsberry Makes Life Easier:
It's easy to transition to lead management software from Leadsberry and then use it every day to streamline the entire sales process.
• First, old leads are imported from excel spreadsheets and entered into the nurturing program.
• New leads flow smoothly into Leadsberry.
• Leads can be rated for their sales readiness so appropriate follow-up can take place.
• Sales agents can receive sales alerts on hot leads.
• Leads can be auto-qualified based on customized lead scoring rules.
• Lead analytics reveal critical data on campaign effectiveness.
So let's recap how Leadsberry's B2C / B2B lead management services and software work for you:
1. It lets you easily move leads into our lead management software platform,
2. It lets you categorize and qualify leads quickly,
3. It guides sales agents to the appropriate, timely response.
In a nutshell, that's how we help you gain better control of your firm's leads so fewer get lost and more get converted.
And really, isn't that what you need most from lead management services?
Lead Scoring
When a new lead is added to the Leadsberry platform, something remarkable happens. The program actually tells you how likely that lead is to convert!
And that makes our lead scoring software a critical tool for qualifying leads and predicting sales readiness.
Sales lead scoring helps your team rate the cold-warm-hot temperature of each lead. So they know whether to refer it to sales for an immediate sales call, enrol the lead in email nurturing, or relegate it to the back burner.
How Lead Scoring Works
The lead scoring tool built into Leadsberry analyzes each new lead and generates a numerical score based on these factors:
• Industry: Is the lead in a sector you want to target?
• Title: How high up is this contact in the corporate food chain?
• Annual Revenue: How much is the prospective client worth?
• Budget: How much can the prospect spend?
• Timeline: How long has this lead been in the system?
• Nurturing Score: How long did it take the prospect to open your email, click a link or visit the website?
Among other things, lead scoring tells you if your marketing efforts are generating high quality prospects, how ready they are to buy, and how engaged they are with your products.
Amazing what a few simple numbers and a great lead scoring tool can tell you about your prospects!
Lead Capture
Finally, Lead Capture Software That Sets Up Easily and Runs Itself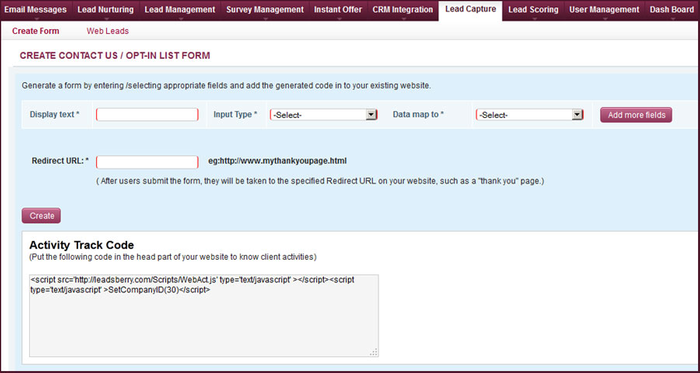 Good lead capture software needs do just three things and do them well:
1. Create Forms: Lets you easily create custom lead capture forms, even without HTML training.
2. Go Live: Let you easily, quickly upload the forms to your site.
3. Capture Leads: Automatically collects and stores the leads in a database.
Once in the database, new leads are sorted using Leadsberry's lead scoring function.
Then they're either turned over to sales for immediate action or incubated through Leadsberry's onboard lead nurturing system.
How Our Lead Capture System Works
Once you're logged in to your Leadsberry dashboard, navigate to the lead capture page. You'll find an intuitively easy interface that lets you create your first lead capture form for your landing page in a matter of minutes.
You decide how many fields of information you want to collect, such as:
Company Name
Then just click the Create button and Leadsberry automatically generates the code you need. Copy and paste the code into your landing page and you're ready to start capturing leads.
First Name
Last Name
Email Address
The Leads Database
Our Lead Capture software has a feature called Web Leads. This is where captured leads are stored within our web-based system.
It lets you search your leads using variables like contact name, company name or email address.
It's all updated in real time, so you always know exactly how many leads are in the lead capture system at any given time. Because it's good to be in control.
CRM Integration
Leadsberry brings you CRM Integration feature in its platform:
From Big Data to Big Opportunities
Here's a smart tool that allow you to seamlessly integrate CRM data into your campaign platform. This means that you can import CRM data to this application and start nurturing them effectively.
Leadsberry's CRM integration service enables you to increase sales conversion by accelerating lead nurturing campaigns. This easy-to-work tool also helps you sort the data, and use the right data to run multi-channel marketing.
Gain more insights about your customers
After you import all contacts from your CRM, you can see their activity, history, campaigns send, campaigns opened, actions taken, and more. Plus, this automatic tool reduces the overly-complicated lead management work with easy CRM integration system.
Import customer data available in any formats
Easy import feature of the tools lets you import customer emails, names, other fields, and all kinds of data available in different formats from the CRM to this application.
Sort data for targeted campaigns
The smart filters in this tool give help you sort data based on profile, history or actions. It can also create homogenous into silos and drive targeted campaigns with list segments that group subscribers matching specific.
Survey Management
Survey Management is a powerful and robust online marketing automation tool to build professional surveys and collect feedback & accurate business data to make smarter business decisions. It is an easy-to-use tool to create, analyze and deploy questionnaire, surveys and reports quickly; within few minutes.
Leadsberry's Survey Management tool focuses on the metrics like campaign cost, ROI and leads to deal conversion, which matter most to marketing and sales executives. It not only provides holistic view of the vital metrics but also analyse results based on the lead behavior and allow users to use code or link for their website.
Want to Design, Manage and Publish Professional Surveys? With Leadsberry's Survey Management tool you can:
• Create surveys easily
• Host survey pages as per customers preference
• Sort surveys as per URLs, date created and other criteria
• Manage and track survey feedback
6 Reasons Why You Need Leadsberry's Survey Management
Integrated Analysis Feature - Avail features that allow insightful data analysis and illustration of open-ended comments. Also, understand trends and user behavior.
Real Time Results - Get the results for your surveys, feedback forms and polls instantly, in the real time and share them with colleagues.
Assured Confidentiality - Benefit your business with the security of data confidentiality and the flexibility to reach out to our customer support team, 24 X 7.
Easy to Create - Create ad-hoc professional marketing surveys within minutes using our intuitive Drag-and-Drop User Interface.
Metrics That Matter Most - Avail handy metrics relevant for your business to create instant surveys.
Free Code Sharing - Put the link or code of the survey you have created on your website or send it to your customers.
Instant Offers
Instant offers and discounts are proven ways to draw people to your business and make them purchase. You are likely to get maximum attention from your readers if you tell them that there are offers, and they can save money.
Leadsberry understands the significance of instant offers and how they translate into increased sale and improved reputation. Our tool helps you create instant offers that can be customized for different clients.
With Leadsberry:
• Schedule special offers for targeted leads
• Create new templates
• Create and analyze reports (know status, get delivery reports)
Why Create Instant Offers:
• Build stronger client relationships
• Make sale that won't happen otherwise
• Attract new customers
• Increase sales
• Build your brand reputation
• Meet and exceed business goals
Social Media Connect
According to Sirius Decisions, almost 70% of client-prospect communication happens on the web. And Gartner reports that by 2020, 85 percent of interaction between brands and customers will be done online.
Clearly, automating lead management and other marketing activities without getting connected to social media is futile. The widespread use of social networks to generate leads, interact with prospects and communicating with customers has made the modern marketing scene more dynamic. From blogs to Twitter to Facebook, social media has been embraced by businesses to generate, manage and convert the leads stream.
To help businesses tap the full lead generation potential of social media, Leadsberry has introduced Social Media Connect.
What does it do for you?
• Create and automate email campaigns with links to your social media profiles
• Lets you update your social media profiles (Facebook, Twitter and Linkedin) from Leadsberry's interface
• Helps your prospects know about latest features, trends etc in a single click
• Saves you time – you don't have to login separately to your social media accounts; one update in Leadsberry's platform does it all.
This unique feature has been brought to you by Leadsberry's App experts keeping in mind usability and convenience of users. Most businesses use multiple platforms at once for their sales and marketing activities. Integrating them all in one platform will help you enjoy dual benefits of superior lead management and avoid managing too many logins and updates.
List Management
Databases provide the underlying support to your customer service, production operations, internal operations and sales and marketing. From day-to-day operations to strategic decision-making, your databases are the crucial nuts and bolts that drive your business. And it is equally important to manage your contacts in a clean, clean and clutter free manner.
At Leadsberry, we've come up with excellent list management features to help you organize your contacts in compact and manageable formats.
You can now
• Collate, segment, remove dupes and organize your lists however you want
• Maintain your lists clean and integrate records
• Upload files in simple text or csv formats
• Delete duplicates, merge files, filter and segment – all in one interface
How List Management helps you:
• Advanced list management features in a single tool
• Keeps lists clean, segmented and free from dupes
• Handles large number of data and emails
• Easy-to-use and friendly interface