CRM
Thanks to Teamleader, you can quickly and easily manage all of your contacts. You can link contacts to companies and note their position within the organization. If you enter a company's VAT number, Teamleader automatically fetches all available information on the company. Filtering your contacts is also a cinch with tags and segments.
Manage your contacts
Manage your contacts quickly and efficiently. Link them to a company and enter their position in. You can add an existing contact list toTeamleader via CSV import or the API. If you enter the VAT number, Teamleader automatically fetches the available information on that company. You can also directly import financial information to Teamleader if the company is in the Trends Top database.
Action Summary by client
You can follow which colleagues had contact with a company by using the chronological action overview. You can also see who they contacted, as well as when and how. Teamleader keeps a record of phone calls, e-mails, meetings and invoices. All information is collected for each client so that you and your colleagues easily stay on top of all the communication with the client.
Simple client segmentation
Organize your client file by efficiently segmenting it. You can divide your clients according to sector, province or postal code. You can also assign certain tags to your clients. You can distinguish between clients and other contacts by using labels such as 'client', 'supplier' or 'employee'.
Calendar
You can manage all of your tasks, meetings and phone calls in one integrated calendar. You can sync it with Google Apps, Office 365 or iCloud so that you are up to date in each application. You and your co-workers can share your schedule so that you can gain insight into their schedules. But of course, your private meetings can only be seen by you.
Integrated calendar
Teamleader provides an integrated calendar that manages all of your tasks, meetings and phone calls and shares them with colleagues. Keep an eye on what's going on thanks to Teamleader's convenient day, week and month overview. Are you scheduling a meeting? All you have to do is compare your calendar with those of your colleagues to quickly find a free moment.
Manage your appointments
Schedule an appointment with one of your contacts and instantly send an invitation via e-mail. Add several colleagues and contacts to the meeting. Whether you are creating an appointment or reacting to an invitation, it will automatically appear in your Teamleader calendar.
Synchronise your calendar
One calendar for all of your activities. Synchronize your Teamleader calendar with Outlook, Office 365, Google Calendar and iCloud - and vice versa. Import your own calendar to avoid scheduling the same meeting twice, and other such conflicts. Obviously only you will be able to see your personal appointments.
Automatically schedule your journey
Book a meeting in your calendar. Integration with Google Maps immediately calculates the expected travel time and automatically blocks the time off on your calendar.
Invoicing
Teamleader helps chose the right moment to send the invoice. Create and send your invoices in a few clicks, and manage their status effortlessly. You will even get an automatic warning when your client has failed to pay on time.
Invoice your time records
If your task or meeting is ending, Teamleader will ask you to enter the time spent. This time tracking runs automatically once you log in Teamleader - and restarts for each new task. Would you like to enter your tracking manually? Or note the hours worked for a client or on a specific project? That's also possible! You can then download the time tracking reports as an Excel file.
Automate your recurring business
Teamleader sends a invoice automatically so your invoices will always be on timee for your recurring business such as hosting or domain names. In addition, you get an overview of the future value of your recurring portfolio.
Take advantage of the statistics
Get new insight from the statistics created by time tracking your projects. Set your financial goals for each quarter and consult intelligent reports that show the progress of your invoiceed sales.
Manage uninvoiced time
Thanks to the overview in the CRM feature, you won't lose track of uninvoiced time. Need a bit more help? Set a limit for uninvoiced time! If the limited has been exceded, the client will receive an invoice. You can see all uninvoiced time for each client on their details page. You can invoice the time by simply selecting which hours or tasks you would like to add to the invoice.
Receive online payments
Using Invoicecloud your customers can consult their invoices online and directly pay their outstanding balance via your own preferred payment methods, resulting in an always up-to-date billing overview. Credit card, PayPal, iDEAL, SOFORT, bank transfer. Take your pick.
Link with the accounting
Teamleader links the invoicing feature to a long list of accounting packages which also makes financial reporting possible.
Sales
Trying to attract new prospects? Keep your finger on each stage of the sales process: from first meeting to invoicing. You can follow your progress at each stage of the process. You can quickly send a quotation via e-mail directly in Teamleader, and your client can accept the quote online with Cloud Sign.
Automate your sales process
The pipeline is the path that a potential client goes through from the first meeting to accepting a business quotation. Dividing the sales process in stages helps you stay on top of each stage of the process. Has one stage been completed? Just click the next stage! A handy chart shows when each stage was completed.
Add deals
Add a deal to a contact in just a few clicks! Assign the deal a title, enter its details, the value of the contract and put a person in charge of it. Teamleader combines the deal automatically to the contact person or the company.
Accept quotations digitally
You can make quotations in your company's own branding. You can create the quotation with your own text or use templates from your database. Teamleader can calculate prices with or without VAT. You can send the quote by e-mail and request online acceptance via CloudSign. There, the client will be able to see, print, comment and digitally sign the quote. Of course, you can also customize the CloudSign-platform with your own corporate identity.
Manage your sales team
Teamleader provides insight into your business. Take a detailed look who sent which offer, how many quotations are still waiting to be accepted, the reasons for declined quotations, and so on. Set goals for your employees and see with one click of a mouse whether they have achieved those goals.
Project Planning
Whether you work on a project alone or in teams, a clear project plan ensures that you meet deadlines and stick to your budget. Teamleader will automatically place tasks in your employees' calendars to make optimal use of your workers.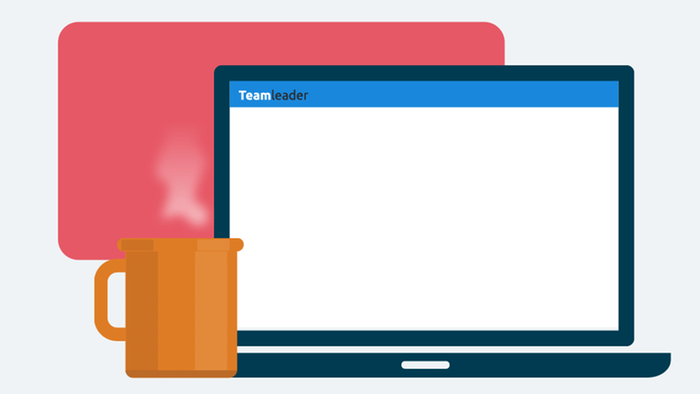 Start a new project
Give the project a name and start date - and you're off. Determine the stages of the project. Teamleader tracks the each stage of a project, as well as how much money has been spent so that you don't exceed your budget. You can invoice a project based on an agreed budget or through the recording of hours worked. It is also possible to set different hourly rates within one project. You can also generate a use report that provides an overview of the work done to date.
Manage your project
The project provides an overview of all active projects and the tasks associated with them. Keep a grip on your schedule with Gantt charts. You will be able to see if each team is making as much progress as it should.
Work together
Define different hourly rates within the same project. Assign a task or project to the employees. Determine what information they can access. By sending messages via Teamleader, you can make sure that you are all on the same page. Work with your client via the Cloudproject platform, where he or she can see the status of each of the stages in the project. Your client will also be able to view planned meetings or contact your employees. You can also send them a checklist with items that they can check off online.
Automate your resource planning
Teamleader lets you get see an overview of the ongoing projects. Teamleader can also estimate the amount of time needed for the projects according to what has been scheduled in your calendar.
Tickets
Help your clients quickly. With the ticketing feature, you can efficiently offer your clients the support they need. Your employees will be able to easily find all information in one common e-mail inbox. In addition, Teamleader automatically links each ticket to the right contact in the CRM feature.
Manage clients' questions
Teamleader makes it easy to review the questions asked by your clients by bundling the e-mails that your clients send to your support department. One, or several, of your several employees can answer the question or add attachments. This feature also lets you consult with your co-workers before responding to the client's question.
Link tickets to your CRM
Teamleader links each ticket to the CRM database so that you can easily see which tickets belongs to which client. Do you need to add another? Simply add the task and assign an employee to it!
Invoice your tickets
Teamleader records how much time employees spend on a ticket. The time spent on a certain task is sent to the client's profile via the CRM-module so that you send a correct invoice to your client.
Using internal tickets
The ticketing feature lets you quickly respond to internal communication. If an employee has a question on a particular project, for example, he or she will quickly be able to get help from his co-workers.
Time Tracking
Accurately record the time worked for each task. Are you close to finishing a project? Then simply create an invoice based on the number of hours recorded! You will also be able to see the time that your employees spent on a task or project in the day or weekend summary.
Record every task performed
If a task has been completed or a meeting is coming to an end, then Teamleader will ask you to enter the time spent. The time tracking launches automatically as soon as you log on to Teamleader and restart for each new task. Of course you can also manually enter time spent. You can also assign the number of hours worked for each client or project.
Follow up with your employees
Your employees' times sheets give a summary of the hours worked per day, week and month. Define different types of tasks and analyse how many hours are able to be invoiced. The statistics generated using the data from the time tracking will give you insights into how your team is working. These reports can be downloaded as an Excel file.
Invoice all of your time
Set a limit for recorded but uninvoiced time. If the limit has been exceeded, the client will receive an invoice. You can find the total uninvoiced time on the detail page of each client. You can easily select which recorded time you do and do not want to add to the invoice.
Voice Calls (Voip)
Teamleader has it's own VoIP service so that you can automatically record calls and link it to the information for that client. If you missed a call, Teamleader will suggest calling them back. Teamleader also supports Click-to-Dial.
Know who's calling
If you get a call from one of your contact people, Teamleader automatically opens a detail page where you can add notes about the conversation. The VoIP connection also records unknown numbers so that you can easily add new client data. And if you call a new number, then Teamleader automatically creates a new contact.
Call with one click
Call your contacts in Teamleader. Just click on the phone number in the client's profile. Teamleader also supports click-to-dial in Outlook and Gmail.
Sign up call
Teamleader records the duration of each call. The records for incoming and outgoing calls are recorded directly in the appropriate client file. You can easily pull up the call info afterwards. Teamleader also displays the calls also on the timeline by showing you the number of calls during a given period.
Never forget to call back
Did you miss a call? You'll never forget to call back again. Teamleader automatically places a note in your schedule if you miss a call. If they left a voice-mail, you can also listen to it directly in Teamleader.
Instantly buy new telephone numbers
Buy new local and foreign telephone numbers with Teamleader Voice. This way you have a local phone number for your calls to foreign countries, so you pay the local price. The applications of Teamleader Voice are endless; for example a specific number per department, a phone number to do outbound marketing,… You can always choose with which telephone number you make your calls.
Third-Party Integrations
Integrated with all of your favourite tools Teamleader works very efficiently and is integrated with all of your favourite tools. This creates the perfect work space!